Europe: Triumphs of the Past
Neil MacGregor, Director of the British Museum, continues his new object-based history. Taking artefacts from William Shakespeare's time, he explores how Elizabethan and Jacobean playgoers made sense of the unstable and rapidly changing world in which they lived.
With old certainties shifting around them, in a time of political and religious unrest and economic expansion, Neil asks what the plays would have meant to the public when they were first performed. He uses carefully selected objects to explore the great issues of the day that preoccupied the public and helped shape the works, and he considers what they can reveal about the concerns and beliefs of Shakespearean England.
Programme 6. EUROPE: TRIUMPHS OF THE PAST - As a tourist attraction in Westminster Abbey, Henry V's instruments of battle reflect the view of English history as depicted on the Elizabeth stage.
Producer: Paul Kobrak.
Last on
Battle Gear of Henry V
Date: Helmet and saddle, early 1400s. Shield, late 1300s. Sword, 1400s or early 1500s
Size: Helmet H:425mm, W:254mm, L:324mm. Shield, H:610mm, W:394mm. Sword, H:895mm. Saddle, H:393mm,W: 546mm, L:673mm  
Made in: England  
Made by: unknown  
Material: steel, iron, wood, leather, hessian, textile
In Shakespeare's day, there were two easy ways to learn about national history: you could go to the theatre and see England's famous victories chronicled in performance; or you could head to Westminster Abbey where in amongst the royal tombs you could be instructed on the 'living monuments' of dead kings.
If you did either, it's probable that one monarch's heroic deeds would have stood out above all others – those of England's valiant, dashing, and heroic 'warrior king' Henry V.
In the 1590s, as England headed to war with Spain 150 years after Henry's death, spectacular chivalric displays at Westminster and performances on stage across the river, harked back to this powerful king who personified the ability to unite Englishmen against the enemy.
This object is from Westminster Abbey
Watch a video of the Funeral Achievements of Henry V
British Museum Blog: The theatre of monarchy by Jonathan Bate, Shakespeare scholar
Quotations
'Follow your spirit, and upon this charge/Cry "God for Harry, England, and Saint George!"'  
Henry V, Act 3 Scene 1
'We few, we happy few, we band of brothers:/For he today that sheds his blood with me/Shall be my brother ..." '  
Henry V, Act 4 Scene 3
Background
Funeral achievements are the armour, weapons and banners of a medieval lord offered to his burial church and displayed over his tomb
The most famous examples are of the Black Prince at Canterbury Cathedral and Henry V at Westminster Abbey
The embalmed body of Henry V's wife, Queen Catherine, was on display near to his tomb
Almost 200 years after Catherine's death, Samuel Pepys was one of the visitors to see her and kiss her on the mouth
Henry V is Shakespeare's only history play of the 1590s about a successful king
More from Radio 4: The Discovery of the English Land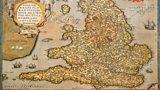 Elizabethan and Renaissance expert Jonathan Bate finds out how 16th-century cartographers, poets, gardeners and local historians put the English countryside on the map.
More from Radio 4: Agincourt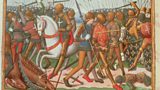 Melvyn Bragg discusses the events leading up to the unlikely English defeat of the French at Agincourt in 1415, and explores the cultural legacy of this emblematic victory.
More from Radio 4: Henry V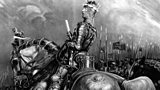 Explorer Sir Ranulph Fiennes discusses the life of Henry V and tries to separate fact from myth, with the help of historian Juliet Barker.
More from Radio 4: The Divine Right of Kings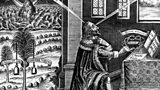 Melvyn Bragg and guests discuss the Divine Right of Kings. The idea that kingly authority derives from God alone bit deep into the culture of 17th century Britain.