Main content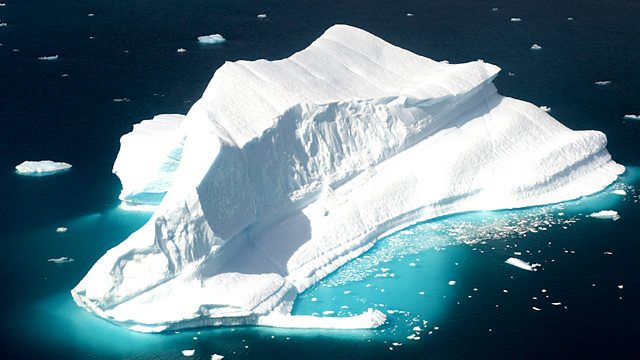 The Ice Mountain
4 Extra Debut. Haunted by the sinking of RMS Titanic, the story of a fictional iceberg's journey from Greenland. With Adjoa Andoh. From April 2012.
This haunting soundscape follows the journey of a fictional iceberg as it travels south into the North Atlantic after calving from a glacier in Greenland. One hundred years ago RMS Titanic struck an iceberg in the North Atlantic, and more than 1500 people died as a result of this collision. As a result, the International Ice Patrol (I.C.P.) was formed to monitors the ice conditions near the Grand Banks of Newfoundland and warn mariners of the dangers that icebergs present to safe navigation. Since the formation of the I.C.P. no ship which has heeded their warnings has struck an iceberg in the North Atlantic. Narrated by Adjoa Andoh and with sound recordings by Chris Watson, the ICE MOUNTAIN follows the journey of an iceberg; from creation to destruction and recalls the events which led up to the sinking of RMS Titanic. Each spring, huge numbers of icebergs set off on a 'one way migration' south. How far they travel and in which direction depends on their size, shape, wind direction and strength, currents and tides. During their journey the most astonishing groans, creaks and growls can be heard as they heat up in the sun, crack and melt or roll around in the waves. Writer and broadcaster Tony Soper describes how birds including Glaucous gulls and Kittiwakes, will use them as places to roost and fish. This in turn will attract killer whales which feed on small fish like Capelin. But for mariners, icebergs are to be avoided. One of the most dangerous aspects is that most of the body of the berg is below the surface. About 1/10th is above water and the rest below. "There's nothing, almost nothing you can do to control its behaviour, to determine what it's going to do, and it is just a force of nature."
Producer Sarah Blunt.
Featured in...
Marvel at this majestic range of mountain programmes.

A selection of progammes and soundscapes featuring sound recordist Chris Watson.