Main content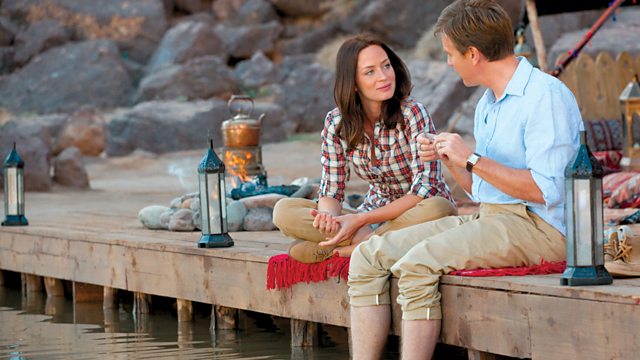 Stanley Booth; Salmon Fishing in the Yemen
Arts news, interviews and reviews with John Wilson, including an interview with writer Stanley Booth and a review of the film Salmon Fishing in the Yemen.
With John Wilson.
Larushka Ivan-Zadeh reviews the film adaptation of the bestseller Salmon Fishing In The Yemen, about an unlikely scheme to introduce fly-fishing to the desert, which results in an equally unlikely love triangle.
Salmon Fishing is one of 17 films scheduled to be released in cinemas this week, an all-time high for an already overcrowded market. Box office analyst Charles Gant explains why the numbers are so great and if anybody is actually watching many of them.
Writer Stanley Booth travelled with The Rolling Stones as they toured the US in 1969, gaining unique access to the band. His account of what he saw has just been re-published, and he recalls the sometimes shocking events he witnessed, and also remembers the moment when he heard Otis Redding record (Sittin' On) The Dock of the Bay.
The Fontana Modern Masters series were as known for their covers as their content - colourful, geometric patterns that have acquired the status of art, with several being sold as prints in their own right. Now artist Jamie Shovlin has added his own contribution, by painting covers for books that were commissioned but, for some reason, never published.
And 100 days before the start of the Olympics, John talks to Damon Albarn ahead of a Front Row special with the musician, about his three separate contributions to the Cultural Olympiad.
Producer Ellie Bury.
Chapters
Salmon Fishing In The Yemen

Larushka Ivan-Zadeh reviews the film adaptation of Salmon Fishing In The Yemen

Duration: 04:10

Cinema Box Office Releases

Box office analyst Charles Gant explains why there are so film releases.

Duration: 04:28

Damon Alban

Damon Albarn talks about his three separate contributions to the Cultural Olympiad.

Duration: 02:18

Stanley Booth

Writer Stanley Booth recalls his travels with The Rolling Stones on their US tour in 1969

Duration: 09:32

Jamie Shovlin

Artist Jamie Shovlin painted covers for books that were commissioned but never published

Duration: 07:10