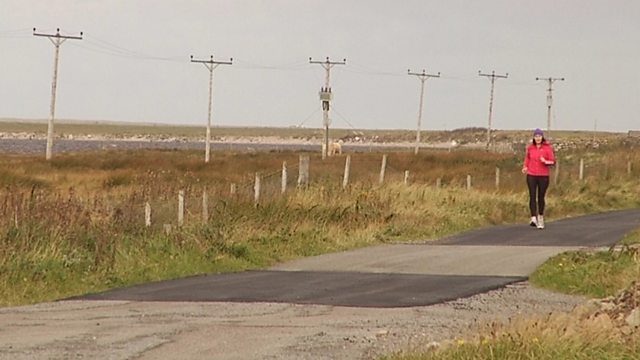 Bu mhiann le mòran againn ùrachadh a thoirt air ar beatha - ceum ùr a ghabhail agus dùbhlan ùr a chuir romhainn fhèin ann an dùthaich ùr. Ach chan eil ach am beagan againn a tha misneachail gu leòr airson sin a thoirt gu buil.
San là an-diugh le cho saor 's a tha e faighinn dhan h-uile ceàrnaidh dhen t-saoghal, tha e gu math cumanta do dhaoine a bhith a' falbh greiseag agus a bhith ri beagan siubhail, a' faighinn eòlas air dùthaich ùr le cànan ùr. Ach an uairsin a' tilleadh dhachaigh gu beatha làitheil àbhaisteach air an cuairteachadh le cofhurtachdan na dachaigh.
'S e rud eile a th'ann buileach ge-tà a h-uile càil fhàgail air do chùlaibh agus beatha ùr a dhèanamh, fad air falbh bho do theaghlach, do chàirdean agus a h-uile sìon air a bheil thu eòlach. Ach se sin an dearbh rud a rinn an ceathrar dàna a tha sinn a' leantainn air Trusadh na seachdain-sa. Ceithir sgeulachdan eadar-dhealaichte bho cheathrar eadar-dhealaichte, agus iad a' dèanamh air Thailand, Bhietnam, an roinn Eòrpa agus nas fhaide as.
Many of us dream about making a fresh start in our lives, but few of us are actually brave enough to make it happen.
In these days of cheap and easy access to all corners of the world, it's not uncommon for people to head off for a short while, travelling and experiencing a new culture and way of life, only to return home and carry on with life and the comforts of home.
It takes a far greater level of commitment though to leave all that behind and become part of a new community in a foreign land, far from family, friends, and a normal working life. That though is exactly what the four intrepid individuals we follow this programme did. Four very different stories from four very different people, as they head for Thailand, Vietnam, Europe and beyond.
Last on