Main content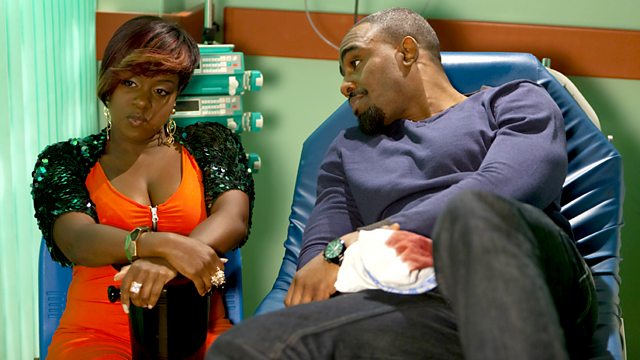 05/04/2012
Alfie fights back after becoming embroiled in another of Derek's deals - but has he the courage to see his plan through? Kim's attempts to impress Ray have disastrous consequences.
Derek and Alfie plan to steal £12,000 worth of booze from the drayman's van. Billy's baffled why Alfie's agreed to be Derek's dogsbody. Later, Alfie convinces Derek to accompany him as Billy's pulled out. Waiting for the drayman, Derek's antsy and they're about to leave when Trevor the drayman arrives, informing them he had the van full of booze stolen at gun point. Enraged, Derek's convinced Phil Mitchell's behind it. Later, in an alleyway, a triumphant Alfie congratulates Billy and Trevor and tells them Derek bought it – Alfie's no-one's dogsbody.
Kim's tarted up in a revealing dress for work, only to discover she's been drafted into the kitchen filleting fish for Good Friday. Kim's jealous to overhear Ray flirt with Bianca and hacks at the fish, slicing off Ray's finger. Waiting in hospital, Kim and Ray discuss why they flirt. Ray thinks Kim's dress makes her look cheap, but promises Kim he's not playing her. They kiss tenderly.
Bianca tries to increase a loan for a new TV but discovers she has to pay off her current loan first. Bianca brings home free un-labelled food tins, but they contain dog food and custard. Tiffany and Morgan plead dinner from Ray. Embarrassed, Bianca asks Ray for football boots for Morgan who's made the school team. Tiffany's jealous. Bianca takes out another short term loan.
A grieving Dot can't face church, prayer, or telling Jim about Heather's death. She snaps at Ian, then Denise, but lets in Reverend Stevens. He washes her feet for Maundy Thursday as she breaks down, sobbing.
Ian feels old and unfulfilled. Mandy suggests he take an herbal erection remedy, warning Ian she needs excitement. Lucy and Ian discuss Jane and the café. Struck, Ian's certain if he buys the café it'll bring the excitement he needs.
Credits
| Role | Contributor |
| --- | --- |
| Alfie Moon | Shane Richie |
| Billy Mitchell | Perry Fenwick |
| Derek Branning | Jamie Foreman |
| Dot Branning | June Brown |
| Ian Beale | Adam Woodyatt |
| Mandy Salter | Nicola Stapleton |
| Lucy Beale | Hetti Bywater |
| Denise Fox | Diane Parish |
| Kim Fox | Tameka Empson |
| Ray Dixon | Chucky Venn |
| Roxy Mitchell | Rita Simons |
| Bianca Butcher | Patsy Palmer |
| Carol Jackson | Lindsey Coulson |
| Tiffany Butcher | Maisie Smith |
| Morgan Butcher | Devon Higgs |
| Reverend Stevens | Michael Keating |
| Trevor | Mick Bartlett |
| Executive Producer | Bryan Kirkwood |
| Director | Ian White |
| Writer | Daran Little |