Main content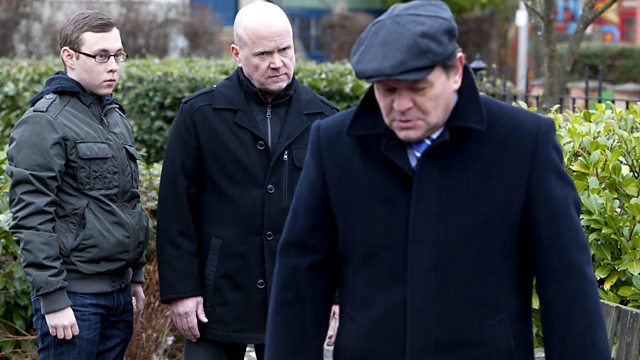 02/04/2012
Ian finally tracks Mandy down and begs her to return home by offering back her engagement ring - but will she accept this proposal? Jack and Denise clash over a builder.
Mandy's been gone all weekend and Ian worries she doesn't need him. Lucy discovers her at home packing and sneers at the way Ian parades Mandy around. Mandy claims she has a new man. When Lucy admits Mandy's been home, Ian races to the bus stop and apologises but can't resist a dig at Mandy's new man. Mandy admits she lied and is upset Ian thinks so little of her but relents when he pleads she's everything to him. Celebrating in the Vic, Ian wants to visit the Argee Bhajee, then R&R to show Mandy off. Embarrassed, Mandy suggests they finish their champagne in bed. Later, Ian sits in his dressing gown, inconsolable, as a dishevelled Mandy soothes that it happens to every man.
Urged by Billy, Phil closes down Derek's deals with the Vic, R&R and stops Manic Mondays. Derek claims no hard feelings but Alfie's worried. Later, Phil sees Derek with Ben and warns Derek away from his family and businesses. Derek declares the line has been drawn.
Ben's uneasy when Shirley constantly talks about Heather and puts George's new racing car bed in his room. Phil's protective of George around Ben. Tamwar tells Phil he hasn't heard from Darren. Ben's upset Phil doesn't trust him with George, and is sure Phil won't let him see the psychiatrist because he thinks he's a freak, but later stands united with Phil against Derek.
Alfie's plan to match-make Kim and Ray backfires as they bicker working together at the Vic, resulting in cancelled orders. Roxy thinks Alfie's an old romantic.
Denise and Kim are thrilled when Yusef's money clears. When Jack accuses her of poaching his builder, Denise bans him from the Minute mart.
Denise wants to revive Book club and Cora agrees for Tanya to host. Zainab's annoyed Denise didn't ask her.
Credits
| Role | Contributor |
| --- | --- |
| Derek Branning | Jamie Foreman |
| Phil Mitchell | Steve McFadden |
| Ben Mitchell | Joshua Pascoe |
| Shirley Carter | Linda Henry |
| Ian Beale | Adam Woodyatt |
| Mandy Salter | Nicola Stapleton |
| Lucy Beale | Hetti Bywater |
| Alfie Moon | Shane Richie |
| Billy Mitchell | Perry Fenwick |
| Kim Fox | Tameka Empson |
| Ray Dixon | Chucky Venn |
| Roxy Mitchell | Rita Simons |
| Jack Branning | Scott Maslen |
| Afia Masood | Meryl Fernandes |
| Tamwar Masood | Himesh Patel |
| Zainab Khan | Nina Wadia |
| Denise Fox | Diane Parish |
| Cora Cross | Ann Mitchell |
| Dave | Laurence Hobbs |
| Executive Producer | Bryan Kirkwood |
| Director | Ian White |
| Writer | Wendy Granditer |