Main content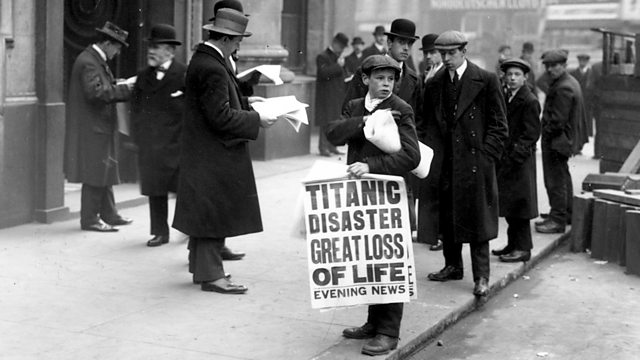 Sinking of the Titanic Special
Peter Snow uses a London Evening News for April 15 1912 to recreate the chain of events leading up to the Titanic disaster. Amazingly, the paper believes all passengers are safe.
Reports of Titanic's collision with an iceberg could hardly be more white hot than this: an Evening News printed in London on the very day the pride of the White Star Line went down. And yet the paper declares 'All Passengers Safely Taken Off' and 'Crippled Vessel Steaming to Halifax'.
Just one angle for Peter Snow to explore in this Random Edition Special. As ever, the newspaper of choice guides his investigations. With the Evening News reminding readers of the splendours of the great ship, Peter visits the Titanic Artefacts Exhibition and Queen Mary 2 (today's largest ocean-going liner) to imagine what impressed passengers on the maiden voyage - like salesman Adolphe Saalfeld, listed in the newspaper. His perfume vials have been rescued from the seabed and are part of the exhibition.
The Evening News also carries a string of cues to the great 'what ifs' of the Titanic story. What if sister ship Olympic hadn't been damaged the previous year, diverting workers from completing Titanic and thereby changing the date of the maiden voyage? If only Titanic hadn't narrowly avoided an accident in Southampton as she set off...her departure might have been delayed. As the newspaper makes clear, this was a big night for the still fledgling Marconi wireless system - Peter Snow visits the Marconi Archive and the Museum of the History of Science in Oxford to discover more.
And with the Evening News overdosing on iceberg stories, Peter asks whether a head-on collision rather than the fateful glancing blow would have meant the ship staying afloat. Throughout the programme listeners can hear vivid eye-witness testimony from Titanic survivors, plus music recorded soon after the disaster. And there's also the authentic sound of one of Titanic's hooters, restored to working order.
Producer: Andrew Green
A Andrew Green production for BBC Radio 4.