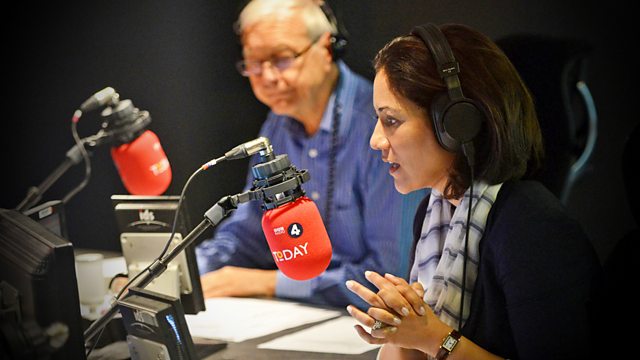 11/04/2012
News and current affairs, presented by John Humphrys in Liberia and Sarah Montague in London.
0810
This morning, the Today programme is broadcasting from Bong County, Liberia, at the start of a year long project. Liberia, in sub-Saharan Africa has been torn apart by civil wars, misruled by corrupt and brutal dictators and its people are in desperate need of everything from decent medical care to a basic education. But the continent is beginning to get its act together and democracy is taking over from dictatorship and economies are expanding and relying less on foreign aid. The Today programme's John Humphrys reports from Gbarnga, in Bong County.
0822
Facebook announced on Monday it is to buy Instagram, the popular photo-sharing smartphone app for a whopping $1bn, which is just one of the many programmes and apps now available to amateur photographers to dramatically improve the quality of their shots. Eamonn McCabe, portrait photographer, and Dr Aleks Krotoski, journalist who writes about and studies technology, discuss where all this new technology leaves the professional photographer.
0834
If you're born in Liberia today, you've drawn one of the shortest straws in the world as you have got a ten percent chance of dying before you reach the age of five. Malaria and diarrhoea are two major issues as well as malnourishment. The Today programme's John Humphrys finds out what life is like as a child in the West African country.
0855
At the end of our first broadcast from Bong County, the Today programme's John Humphrys reflects on his time in, Liberia. You can follow and get involved with our year-long project via #TodayinLiberia.
Last on
So you think you know the Today programme?