Main content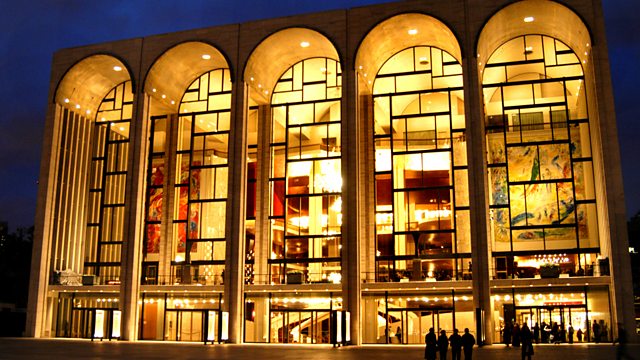 Massenet's Manon
From the Metropolitan Opera, New York, Fabio Luisi conducts Massenet's opera Manon, with Anna Netrebko (Manon) and Piotr Beczala (Chevalier des Grieux).
Massenet's Manon
Live from The Met
Presented by Margaret Juntwait with guest commentator Ira Siff.
When the Chevalier des Grieux turns up to catch the coach to Paris, he has an encounter which will turn his life upside down. He falls in love with Manon at first sight. When she tells him that her fondness for pleasure has led her family to send her to a convent, he is determined to rescue her from such a fate. But all will not go smoothly for the eloping couple.
Anna Netrebko's dazzling portrayal of the tragic heroine in Laurent Pelly's new production travels to the Met from the Royal Opera House, Covent Garden. Piotr Beczala and Paulo Szot also star, with the Met's Principal Conductor Fabio Luisi on the podium.
Manon..... Anna Netrebko (Soprano)
Chevalier des Grieux..... Piotr Beczala (Tenor)
Lescaut..... Paulo Szot (Baritone)
Comte des Grieux..... David Pittsinger (Bass)
Guillot Morfontaine..... Christoph Mortagne (Baritone)
Monsieur de Bretigny..... Bradley Garvin (Bass)
Poussette..... Anne-Carolyn Bird (Soprano)
Javotte..... Jennifer Black (Soprano)
Rosette..... Ginger Costa-Jackson (Mezzo-soprano)
Innkeeper..... Philip Cokorinos (Tenor)
Maid..... Kathryn Day (Mezzo-soprano)
New York Metropolitan Opera Orchestra
New York Metropolitan Opera Chorus
Conductor...Fabio Luisi.