Main content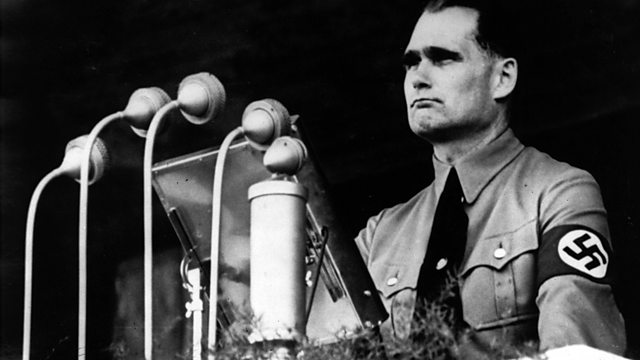 The Psychiatrist and the Deputy Fuhrer
Historian Daniel Pick uncovers the extraordinary story of British psychiatrist Henry Dicks's wartime examinations of Rudolf Hess, after the Nazi Deputy Fuhrer's flight to Britain.
Drawing on never-before-released papers, historian Daniel Pick uncovers the extraordinary story of British psychiatrist Henry Dicks, who was sent to examine Rudolf Hess in a British military safe house, at the height of the Second World War.
In May 1941, Nazi Deputy Fuhrer Rudolf Hess suddenly appeared in a field in Scotland, having flown solo from Germany on what appeared to be a peace mission.
Much of this story is well known, but now Daniel Pick, Professor of History at Birkbeck College, University of London, reveals documents which provide a fresh insight into this extraordinary episode - and cast new light on the role of psychology in the battle against Nazism.
Soon after Hess' capture and incarceration, Dr Henry Dicks, a British psychiatrist, was sent by the British authorities to meet him. His mission was to see what his specialised training could glean about this senior Nazi's thinking - without revealing he was a psychiatrist.
Dicks first encountered Hess in 1941, at the eerie military safe house in Surrey where the erstwhile Deputy Fuhrer was being held. And in this programme, Professor Pick reveals the contents of the notebook in which Dicks kept a record of his encounters.
He sets their contents in the context of the Second World War with the help of Professor Richard Overy.
He listens to a rare recording from the US National Archives of Hess being interrogated at Nuremberg.
And after the war, the lessons of encounters such as Dicks' meetings with Hess were still being pressed into service to combat extremism.
As Dr Jessica Reinisch tells him, even as Hess was consigned to prison in Berlin, psychological insights into Nazi thinking were helping to shape the drive to de-Nazify post-war Germany.
Producer: Phil Tinline.
Last on
Broadcast