Main content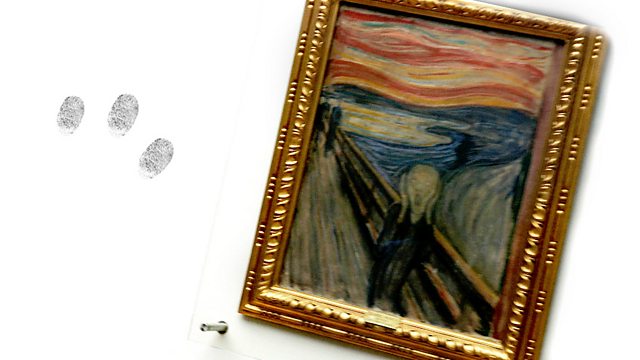 Scream
Crime caper by Boz Temple-Morris and Kris Hollington based on the bizarre story behind the theft of Munch's expressionist masterpiece and the police investigation that followed.
Written by Boz Temple-Morris and Kris Hollington.
A crime caper telling the extraordinary but true story behind the theft of Edvard Munch's expressionist masterpiece from an Oslo museum in 2004.
Oslo police are closing in on the criminal mastermind behind an audacious cash robbery when two incompetent criminals burst into the Munch Museum and ask for directions to Norway's most famous painting. Amazingly, they emerge with two paintings, The Scream and The Madonna. So begins a high profile and often bizarre game of cat and mouse as police attempt to track down these national treasures and arrest those behind the robbery.
Could it be that the criminal mastermind, David Toska, has commissioned the theft of the Scream simply to divert police resources from the investigation into his cash robbery? So believes Iver Steinback, Norway's no 1 detective.
Even after Toska's arrest the police seem no closer to recovering the painting but police develop a bizarre negotiating tactic after Toska develops a voracious appetite for - chocolate.
Scream is made in collaboration with investigative journalist Kris Hollington and recorded entirely on location in Olso with Norway's leading actors.
Cast:
Kjell ....... Christian Rubeck
Inspector Steinbeck ....... Jargen Langhelle
Thomson ....... Mats Eldaen
Siegried ........ Henrik Horge
Petter ........ Stig-Henrik Hoff
Karl ....... Aksel Hennie
Elina ....... Ingrid Bolsa Berdal
Paal Enger and David Toska ....... Eric Madsen
Other parts were played by
Siri Ingul, Catherine Gram, Lars Engebretsen,
Endre Haukland, Josefine Coward, Bettina Fleischer and Axel Aubert.
Sound and music by Alisdair McGregor and Howard Jacques.
Director: Boz Temple-Morris
A Holy Mountain production for BBC Radio 4.