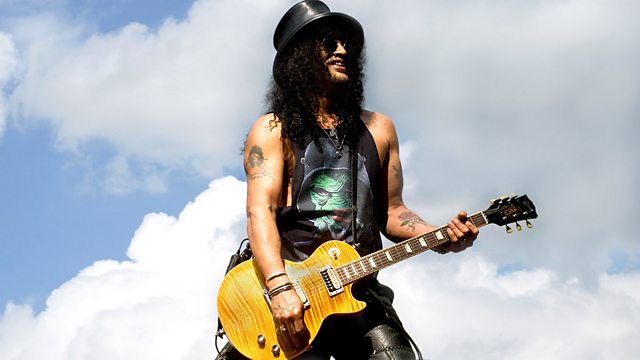 12/04/2012
This spring, Radio 2 rocks out for six weeks with one of the most iconic guitarists of all time, Slash. The rock music legend and former Guns N' Roses guitarist presents six episodes of the music that changed his life and inspired him to pick up a Les Paul.
From AC/DC and Aerosmith to Metallica and Motorhead, Slash presents an hour of heavy riffs, screaming solos, crunching guitars, and soaring vocals. Interspersed with stories of rock 'n' roll decadence, anecdotes from the back of the tour bus, and an infectious genuine love of the genre, Slash explains how these artists and songs changed his life and fuelled the soundtrack to his world.
The high-octane tunes include AC/DC, Judas Priest, Rage Against The Machine, Rose Tattoo and Scorpions. Plus Slash reminisces about his time with his former band, Guns n' Roses, ahead of the seminal group's induction into the Rock n' Roll Hall Of Fame on Saturday 14 April.
Last on