Main content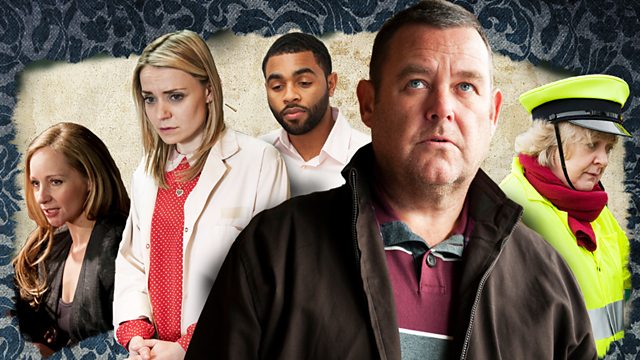 Drama. Lollipop lady Kathleen enjoys her friendship with 10-year-old Megan, but is terrified when Megan asks for her help in reading a story in front of an audience.
Kathleen enjoys being a lollipop lady at the local school, especially as it has led to her close friendship with ten-year-old neighbour Megan. Both Kathleen and Megan have been through tough times recently; Kathleen's mother has recently died, while Megan's mother has run off with another man. Megan's dad Jimmy isn't coping well, leaving Megan to do much of the cooking and cleaning around the house. Kathleen leads a quiet life; her sister Brenda emigrated to Canada two years ago, leaving Kathleen to look after their mother alone, and despite her sister's attempts to get Kathleen online, contact is limited.
Megan has started getting into trouble at school and, in an effort to steer her on the straight and narrow, the teachers suggest Megan and Jimmy read a story for the Christmas show. Megan knows Jimmy is too busy working to join her in the show, so asks Kathleen. Megan is thrilled at the prospect, but it's Kathleen's worst nightmare - she's always struggled with her literacy skills, and reading to an audience fills her with terror.
Kathleen makes more and more excuses to avoid Megan and rehearsals. Megan's confused and hurt, and feels Kathleen is abandoning her just like her mother did. Megan's behaviour gets worse at school, resulting in a near-miss on the school crossing which could have had serious consequences. Horrified that she's provoked Megan's bad behaviour, Kathleen convinces the headteacher to give Megan another chance. A written apology backfires on them both, and Kathleen is forced to come clean to Megan about her literacy problems.
Kathleen realises that she's been cutting herself off from the world, and that it's about time she asked for help and tried something new. She has a heart-to-heart with Megan's dad Jimmy - Kathleen lost her childhood and most of her adulthood looking after her mother - she doesn't want the same to happen to Megan. But, still hurt by Kathleen's lies and secrecy, will it be too late to patch things up with Megan?
Credits
| Role | Contributor |
| --- | --- |
| Executive Producer | Colin McKeown |
| Producer | Colin McKeown |
| Director | Reece Dinsdale |
| Writer | Arthur Ellison |
| Kathleen | Susie Blake |
| Megan | Ramona Marquez |
| Jimmy | Lee Boardman |
| Mr Edwards | Kevin Doyle |
| Miss Jones | Jennifer James |
| Brenda | Barbara Barnes |
| Mia Taylor | Mia Jenkins |