Main content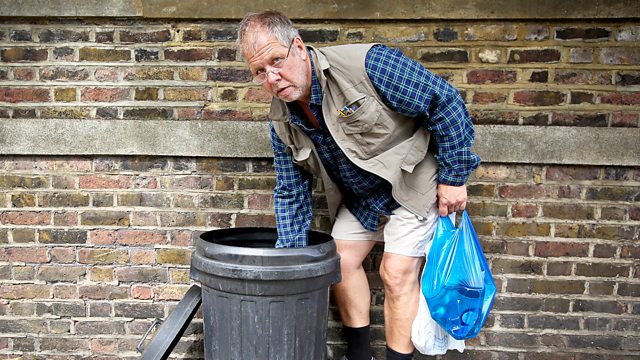 He still hasn't any work, but Ed is finally able to follow Ping's exhortations to 'have a great weekend' and is enjoying weekend-ish things, like having a bath, and whistling.
Radio 4's most curmudgeonly author is back for a new series, complete with his trusty companion Elgar and his never ending capacity for scrimping and scraping at whatever scraps his agent, Ping, can offer him to keep body, mind and cat together.
Inevitably he finds himself once more battling through the week encountering the numerous 12-year olds who run the media, teaching the lively bunch of pensioners who can "teach him a thing or two about money making schemes, frugal living and having a good time thank you very much", and regular run-ins with the rather successful Jaz Milvane, director of Ed's only ever book-to-screen adaptation.
As we renew our acquaintance with Ed we find him in a somewhat lighter mood, enjoying normal weekend-ish type things, like having a bath, and whistling. He's also visiting the DIY store - because he can. His renewed acquaintance with 1960's hot young model, Fiona Templeton, could have much to do with this new outlook, particularly as they have a shared love of the free sachets to be found in the Sunday newspapers. As long as they don't mix up the shampoo sachet with the brown sauce sachet they should be fine.
More episodes
Previous
You are at the first episode
Credits
| Role | Contributor |
| --- | --- |
| Ed Reardon | Christopher Douglas |
| Fiona | Jenny Agutter |
| Olive | Stephanie Cole |
| Jaz Milvain | Philip Jackson |
| Pearl | Rita May |
| Ping | Barunka O'Shaughnessy |
| Post Office Clerk | Nicola Sanderson |
| Kourier (stet) | Dan Tetsell |
| Stan | Geoffrey Whitehead |
| Writer | Andrew Nickolds |
| Writer | Christopher Douglas |
| Producer | Dawn Ellis |