Main content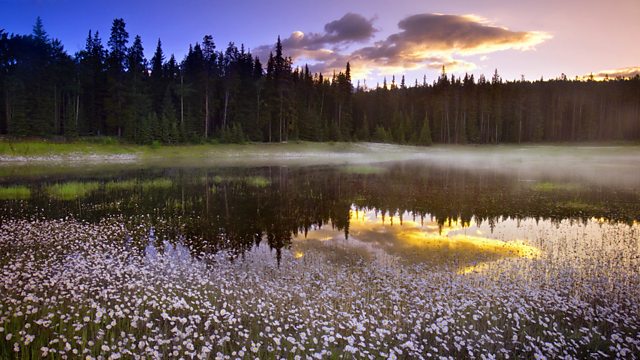 Brett Westwood hears about a new study that has found that numbers of the tiny lesser spotted woodpecker have declined by nearly 90 per cent over the last few decades.
Spring woodlands are loud now with the drumming of great spotted woodpeckers and their familiar head-banging territorial sounds are everywhere in the UK . Numbers of great spotted woodpeckers have increased 250% over the last few decades and they have taken to feeding in garden bird-tables along with tits and robins. However, their much smaller cousin, the tiny sparrow-sized lesser spotted woodpecker has declined by as much as 90% in the same period and from 2011 is one of the species monitored by the Rare birds Breeding Panel.
To find out why our woodpeckers have experienced very different fortunes, Brett Westwood visits the Wyre Forest on the Worcestershire/Shropshire border. This ancient oak wood is one of the study plots for a 3-year RSPB research project on the lesser spotted woodpecker, and one of the best sites to see them in the UK. They are one of the most difficult birds to study because of their size, their attraction to feeding high in the canopy and their huge winter range. A single bird may range over 700 hectares of forest habitat in winter and so is very hard to locate. In spring , they call and drum, making February March and April the best months to see them, before the leaves are fully expanded. For Nature, Brett Westwood visits Wyre with Ken Smith and Elisabeth Charman, woodland ecologists from the RSPB, to search for the birds and to learn about the results of the survey. Although the decline of the lesser spotted woodpeckers is still shrouded in mystery, some interesting facts have emerged. A third of the broods are deserted by one of the parents, leaving the other, usually the male, to bring up the young. Lesser spotted woodpeckers glean insects from leaves and there are indications that climate change may be affecting their prey supplies.
Among woodland birds, "lesser spots" aren't the only species whose numbers are falling . Nightingales, willow tits and wood warblers are also declining sharply which raises questions about the suitability of our woods for many species. But with the rise of the greater spotted woodpecker, also a woodland bird, teasing out the reasons is a challenge for scientists. Brett talks to Rob Fuller, of the British Trust for Ornithology who's studied woodlands for over 30 years, and hears about the complexities of monitoring woods and the birds which live in them.
Producer: Brett Westwood
Editor: Julian Hector.