Main content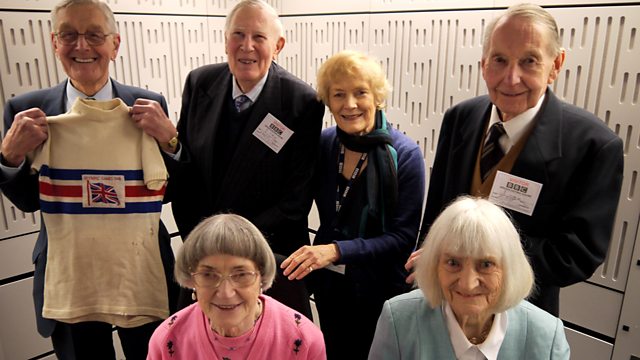 01/04/2012
Sue MacGregor brings together five athletes to recall the 1948 Olympic Games in London: Dorothy Tyler, Dorothy Manley, Tommy Godwin, John Parlett and Sir Roger Bannister.
In the first of a new series of The Reunion, Sue MacGregor brings together five athletes who competed in the Olympic Games of 1948 in London.
Dorothy Tyler won a silver medal for the High Jump, Dorothy Manley won silver for the women's 100 metres, Tommy Godwin won two bronze medals for cycling, John Parlett ran in the men's 800 metre race and Sir Roger Bannister was Assistant to the Chef de Mission for the Games.
In many ways London was not an obvious choice of venue for the 1948 Games. The war had left Britain virtually bankrupt. London was bomb damaged and rationing was still in place. But despite the drawbacks, Prime Minister Attlee saw the Games as something which could boost spirits of the nation.
The whole event was organised in less than two years and relied heavily on sponsorship and donations. No new facilities were to be built. The Games (dubbed 'The Austerity Olympics') would be a 'make do and mend' venture. The Empire Stadium at Wembley formed the main site for events.
Competitors had little time to train but they were offered extra food rations once they'd been selected. They were accommodated in RAF camps and were required to make their own kit. Fewer than 10% of the competitors in 1948 were female and this was also the year that the 'sex test' was introduced to stop any risk of men masquerading as women.
The opening ceremony took place on a baking hot July day. Four thousand athletes from fifty nine nations marched into Wembley arena to be addressed by King George VI. Some of the stars of that year included the Dutch athlete Fanny Blankers-Koen, known as 'the flying housewife' and the eccentric Czech runner, Emil Zatopek. America topped the tables with 38 Gold medals and when the Games were over they discovered they'd even made a profit.
Producer: Sarah Cuddon
Series Producer: David Prest
A Whistledown Production for BBC Radio 4.