Main content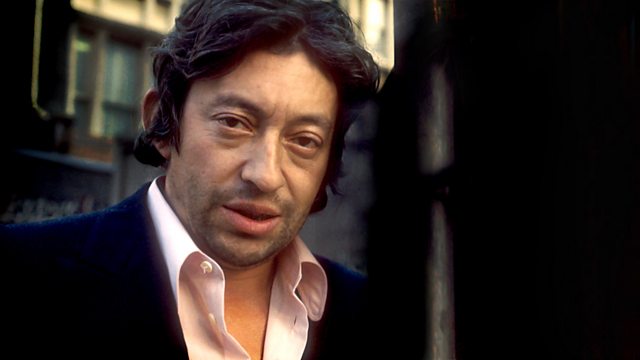 The late Malcolm McLaren visits the people and places central to Serge Gainsbourg's story with contributions Jane Birkin, Petula Clark, David Holmes and biographer Sylvie Simmons.
There is no equivalent of Serge Gainsbourg in the contemporary British music scene. At his traffic-stopping funeral in 1991, President Mitterrand described him as "our Baudelaire, our Apollinaire. He elevated the song to the level of art." Today, his former home in the suburbs of Paris's Left Bank is covered in graffiti and the "wall of Serge" is a bigger shrine than Jim Morrison's grave in Pere Lachaise cemetery.
He became famous the world over for a heavy breathing hit; propositioned Whitney Houston on live TV; and caused outrage with his reggae version of Le Marseillaise. Over here Gainsbourg is known chiefly for his steamy duet with Jane Birkin, Je T'aime, a worldwide hit in 1969 which was banned by the Beeb and condemned by the Vatican.
The song was originally recorded by Gainsbourg and his then girlfriend Brigitte Bardot. When the subsequent Birkin version was released, some assumed the couple had simply placed a tape recorder under their bed during a night of passion. In fact, they were standing in two separate booths in a studio in Marble Arch.
Gainsbourg knew no musical barriers, recording jazz, reggae, pop, disco, psychedelia and rock 'n' roll. But although the French regard Serge as their very own John Lennon or Bob Dylan, his work was not so highly regarded outside his native country.
In a programme first broadcast in 2009, the late Malcolm McLaren, who lived in Paris for many years, visited the people and places central to Serge's story. These include Saint-Germain des Pres, where Gainsbourg first performed in the rive gauche cafes and bars; his former home in the Rue de Verneuil; his grave at Montparnasse cemetery; and contributors include Jane Birkin, Francoise Hardy, Petula Clark, David Holmes and biographer Sylvie Simmons.