Main content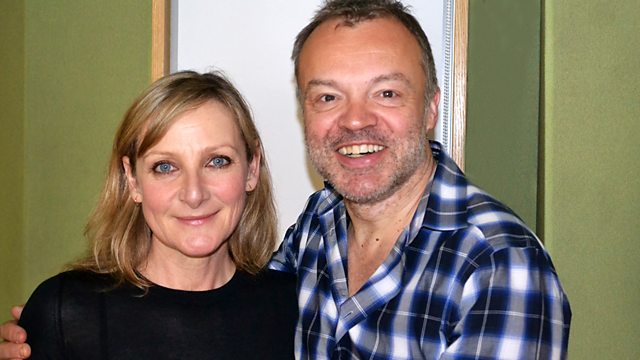 featuring actress Lesley Sharp & Paul Merton
Actress Lesley Sharp chats about always being asked, 'Where do I know you from?' (Scott & Bailey at the moment). Plus, Paul Merton confesses that he hates making his travel shows.
Another busy show this featuring singing dolphins, Eurovision indecision and the joke that's only funny seventh time round.
Norma Fell in Clacton put her 'Hands Up' and admitted she really likes the Ottawan record that she suggested for this week's 'I Can't Believe It's Not Better' - and judging by the reaction Graham got from listeners, she's not the only one!
Graham's first guest this week was actress Lesley Sharp, who despite starring in Clocking Off, Playing The Field, The Full Monty, The Shadow Line and Scott & Bailey to name just a few, still manages to slip in to the shadows in everyday life. When she's not being mistakenly asked by a parent how their child is progressing at school...
Kevin Bates in Halesowen came on after 12 to tell Graham about his 'Tune With A Tale' choice, Red Sovine's version of 'Roses For Mama'. We're not saying it was a sad song, but if we had a pound for every listener who got in touch to say they were in tears, we'd be able to buy a lot of hankies.
Plus Paul Merton talked about returning to stand-up after more than a decade away, being stalked by a stage doorman and why he actually HATES making travel shows!
Music Played
Norma Fell in Clacton's 'I Can't Believe It's Not Better' choice

Song choice of Lesley Sharp

Kevin Bates in Halesowen's 'Tune With A Tale'

Paul Merton's song choice