Main content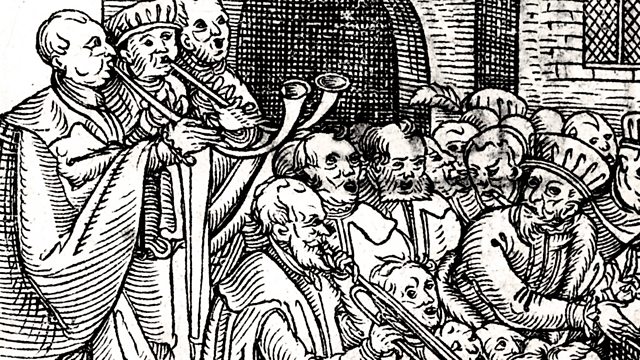 The Topping Tooters of the Town
4 Extra Debut. William Lyons conjures the brash brilliance of the waits - the bands of British town musicians who peaked in the 15th and 16th centuries. From March 2012.
'These are the topping tooters of the town, who play "Lilliburlero" to my Lord Mayor's horse through the city.'
In an exhilarating programme, William Lyons (musician and specialist in performance and Renaissance music) celebrates the music of the Waits - a professional band of musicians who played for civic and ceremonial occasions in major towns across the country until 1835.
That skirl of the waits band blasting their way down broad thoroughfares and narrow alleys stirs the blood even amidst the cacophony of modern life. The music of the waits was external and non-exclusive - for the people on the street, not confined within the tapestried walls of the royal court. It could be heard somewhere, every day, within earshot.
We trace the broad repertoire of the Waits, exploring their exceptional place in the culture and life of 16th century England.
They received an annual wage and were granted livery, raising their status above the mistrusted common minstrel.
They were famed in London for their artistry and skill, rivalled only by the Waits in Norwich and occasionally the royal court, although Elizabeth I regularly called upon the waits to play over her own musicians.
Thomas Morley dedicated his 'First Booke of Consort Lessons' [1599] to the London Waits, praising their skill and 'my love towards them'.
They were mostly wind players: shawms, curtals, cornetts, sackbuts, dulcian, recorders and bagpipes.
After their civic duties, Waits were free to solicit work; in London, they increasingly found parts in the new theatres that were springing up through the City and along the Thames. Stage directions in the plays of Shakespeare, Christopher Marlowe and Ben Jonson call for 'hoboys', 'recorders', 'cornetts' and 'shawms'.
Bring on the Waits!
Producer: Kate Bland
A Just Radio production for BBC Radio 4