Main content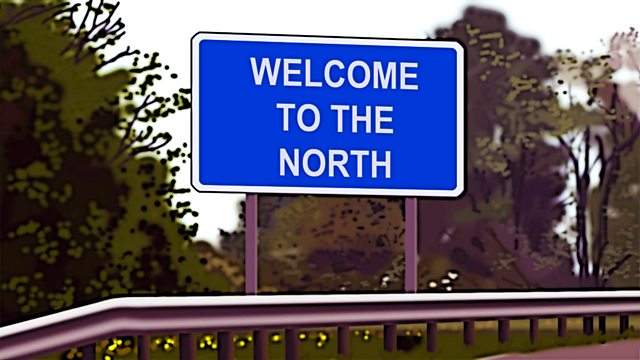 4 Extra Debut. Ian Marchant travels along England's North/South divide to see if it is shifting. From March 2012.
4 Extra Debut. Ian Marchant takes a trip along a very precise line dividing North from South to find out if it's changing.
You can walk the line that separates North from South across England, as mapped by Professor Danny Dorling of Sheffield University. Think of the border which used to separate East and West Germany: a stark division of different life chances. The line which divides the UK is just like that - it's the only comparable 'border' in Europe -according to Dorling.
In these documentaries, writer Ian Marchant travels along the dividing line between North and South, zigzagging the line which runs, rather surprisingly, from Cleethorpes to Gloucester. His aim is to find out what the statistics really mean to neighbours who are separated from each other by a gulf of health, wealth, education, culture and prospects.
Programme one looks at how economic opportunities divide communities on the line, including their health and educational prospects and the type of work available to them. Ian begins his journey just south of Cleethorpes, is buzzed by spitfires, talks to Sir Michael Darrington - ex CEO of Greggs - about different pie-marketing strategies north and south. Professor Danny Dorling reveals the surprisingly clear-cut economic differences he can trace all along the line. Ian also meets Rachel North of West Lindsey District Council to talk about degrees of southern-ness and joins her and some street-cleansing operatives in Gainsborough who are very surprised to find they live in the 'south'.
With his customary wit and deceptively gentle interviewing style he demonstrates so brilliantly in programmes such as 'On the Top Deck' and 'The Ghost Trains of Old England' Ian develops an understanding of what the North/South divide really means to the people who live on it. This is an under-the-skin, thoughtful interrogation of the social geography of Britain using this neat device to dig out fascinating human stories of the real - and changing - meaning of the North/South divide.
Producer: Mary Ward-Lowery.
Featured in...
A selection of programmes looking at the gap between England's north and south.