Main content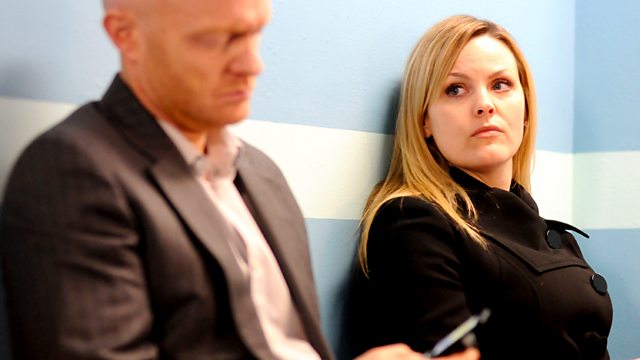 12/03/2012
Shirley's joy at being granted permission to visit Phil rapidly transforms into heartbreak when he drops a bombshell, and Tanya finds herself struggling on the day of her MRI scan.
Shirley visits Phil. His charge has been reduced to manslaughter and she's gutted to learn he's pleading guilty in the hope of a shorter sentence. Realising Phil's been attacked, Shirley fears he won't survive prison. Worried, she talks to Richie, Marsden, Denise, Billy and Jay but gets nowhere. Heather speaks to Ben but he's adamant Phil's a murderer. Breaking into the Beales', Shirley implores Ian to try and get through to Ben, what would having to go to Phil's funeral do to him? Returning, Ben threatens to call Marsden. When Shirley's gone, Ian luxuriates in the thought that Phil's not coming home. Ben boasts that all it took was a word in the right ear; Stella was the chance Marsden was looking for. Ian's horrified when Ben reveals it was all a pack of lies. It's the day of Tanya's scan and everyone's anxious. Lauren and Max bicker, and Cora and Abi (away on a school trip) wish Tanya luck. While Tanya's having her scan, Roxy texts Max but he quickly replies 'Sorry. Never gonna happen.' Later, Tanya worries the scan didn't go well. She becomes angry when Max dismisses her concerns and criticises his treatment of Lauren. She admits she's terrified.
Rose is nosey when she discovers Dot has savings and is moving money around. She worries Dot's going to do something for the wedding to outdo her, then wonders if the money's for Nick. Dot tells her the money's for a rainy day.
Kim's advertising Kimba, but has lost enthusiasm now she and Denise have money in the bank.
After Lorraine's revelations Ian can't help but doubt Mandy. Mandy thanks him for sticking up for her to her mum.
Roxy and Amy return from holiday. Rejected by Max and fed up, Roxy joins Alfie and the kids for a picnic.
Music Played
Timings (where shown) are from the start of the programme in hours and minutes
Credits
| Role | Contributor |
| --- | --- |
| Ian Beale | Adam Woodyatt |
| Ben Mitchell | Joshua Pascoe |
| Shirley Carter | Linda Henry |
| Jay Mitchell | Jamie Borthwick |
| Phil Mitchell | Steve McFadden |
| Roxy Mitchell | Rita Simons |
| Billy Mitchell | Perry Fenwick |
| Tanya Jessop | Jo Joyner |
| Cora Cross | Ann Mitchell |
| Lauren Branning | Jacqueline Jossa |
| Abi Branning | Lorna Fitzgerald |
| Max Branning | Jake Wood |
| Alfie Moon | Shane Richie |
| Shenice Quinn | Lily Harvey |
| Mandy Salter | Nicola Stapleton |
| Lucy Beale | Hetti Bywater |
| Denise Fox | Diane Parish |
| Heather Trott | Cheryl Fergison |
| Andrew Cotton | Ricky Grover |
| Executive Producer | Bryan Kirkwood |
| Director | Nigel Douglas |
| Writer | Rob Gittins |
| Rose Cotton | Polly Perkins |
| Dot Branning | June Brown |
| Kim Fox | Tameka Empson |
| Morgan Butler | Devon Higgs |
| Tiffany Butcher | Maisie Smith |
| DCI Marsden | Sophie Stanton |
| Ritchie Scott | Sian Webber |
| Radiographer | Lynsey-Anne Moffat |