Main content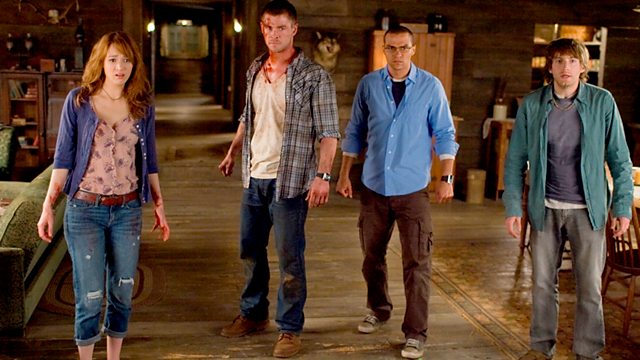 Clive James and The Cabin in the Woods film review
Mark Lawson includes an interview with Clive James about his new collection of poetry, plus reviews of Joss Whedon's The Cabin in the Woods and Ricky Gervais' Derek.
With Mark Lawson,
Buffy the Vampire Slayer creator Joss Whedon co-wrote his latest film in three days. The Cabin in the Woods takes on the seemingly familiar story of five friends staying in a remote cabin where unexpected things happen, and promises surprises. Crime writer Mark Billingham gives his verdict.
Clive James found fame as a critic, TV presenter and memoirist, but has also written and published poetry for more than 50 years. He discusses his new collection of verse Nefertiti in the Flack Tower.
Two TV shows with high-profile names attached are about to arrive on our screens. Ricky Gervais stars in his new comedy Derek, which is set in an old people's home. The American musical drama Smash is co-produced by Steven Spielberg, and is set behind the scenes of a new Broadway show. Rebecca Nicholson reviews.
Madani Younis is the new artistic director of the Bush Theatre, London, a venue with a strong reputation for developing new writers. He discusses his plans and reflects on how his own background shapes his approach to his work.
Producer Claire Bartleet.
Chapters
The Cabin in the Woods

The Cabin in the Woods

Crime writer Mark Billingham reviews horror film, The Cabin in the Woods

Duration: 04:14

Clive James

Clives James

Clive James discusses his new collection of verse Nefertiti in the Flack Tower

Duration: 10:18

Derek and Smash

Derek and Smash

Rebecca Nicholson reviews two new TV shows starring high profile names

Duration: 07:20

Madani Younis

Madani Younis

Madani Younis, the new artistic director of the Bush Theatre, London discusses his plans

Duration: 05:37

Featured in...

Magazine programme on the worlds of arts, literature, film, media and music.

A collection of programmes celebrating the writer and broadcaster Clive James