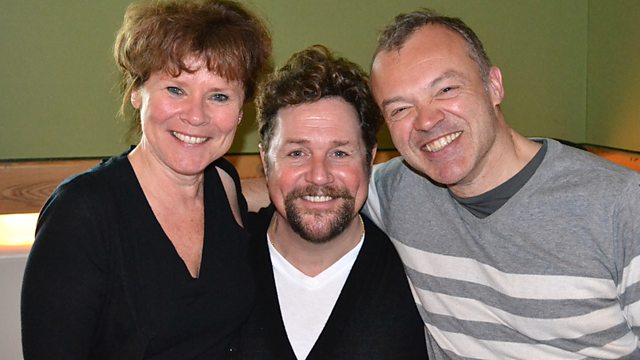 Michael Ball, Imelda Staunton & Lalla Ward guest
Graham's first guests were the stars of Stephen Sondheim's 'Sweeney Todd', Imelda Staunton and Radio 2's very own Michael Ball. They talked about bringing the hit production to the West End after a successful run in Chichester. Michael also spoke about meeting Doris Day and Imelda said it was doubtful there would be any more 'Cranford', much to the disappointment of many...
After 12:30, actress Lalla Ward, who played Romana opposite Tom Baker's Doctor Who popped in to Studio 6C to talk about the Holy Grail for fans of the Time Lord: the long-lost Doctor Who story 'Shada' which has just been released as an audio book. She also spoke about starring in 'The Duchess of Duke Street' and how her favourite Doctor is Patrick Troughton.
In this week's 'Grill Graham', Rachel in Lancashire was worried that her next door neighbour was depressed and wasn't sure whether to get involved or not. And Paula in Brighton was getting increasingly irritated by her clingy boyfriend; the general consensus being that she should dump him now!
'I Can't Believe It's Not Better' was chosen by Andrew Gibson in Peterborough. It was 'O Superman' by Laurie Anderson which unbelievably made No. 2 in the UK charts in 1981. The song is 8:31 long, but in order not to lose too many listeners Graham only played 3:40.
Phew! And in the latest 'Tune With A Tale', Elaine Rayfield chose Trisha Yearwood's 'She's In Love With The Boy', about a father who wasn't keen on his daughter's boyfriend.
Last on