Main content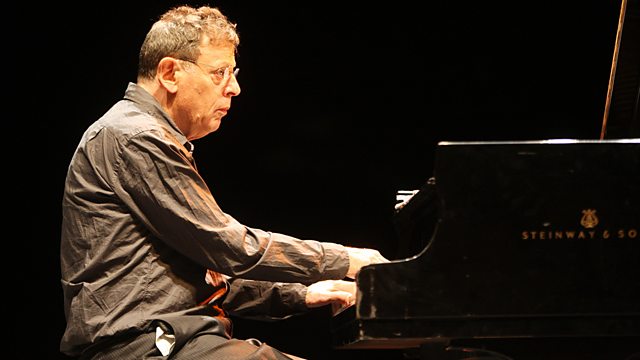 From Enfant Terrible To Classicist
Donald Macleod focuses on Philip Glass's scores for films, including Notes on a Scandal, and also introduces two world-premiere recordings.
Donald Macleod presents the last of this weeks exclusive interviews with the composer Philip Glass, first broadcast to mark the composer's 75th birthday in 2012.
Philip Glass's music has captured the popular imagination - and come to soundtrack our lives - in a way almost unthinkable for a contemporary composer. Yet Glass also divides opinion like no other figure in contemporary music. A one-time "enfant terrible" of the New York arts scene of the 60s and 70s - whose simple, seemingly endless repetitions would stretch for hours and enrage critics - Glass has long since swapped hardline minimalism for a comfy, lushly Romantic sound...and alienated many of his former fans. Disarmingly frank, witty and engaging, Philip Glass has always wryly put aside criticism of his commercial success. All this week on Composer Of The Week, Donald Macleod talks to him about his extraordinary life in music, with a playlist that encompasses his entire career.
Donald Macleod ends this week of interviews with the composer Philip Glass by bringing us right up to date, showcasing two works strongly familiar to British audiences, and two of Glass's most recent concert pieces.
First, the composer discusses his life scoring films, before we hear one of his most acclaimed scores - the darkly sinister music to the 2006 British film "Notes On A Scandal", starring Dame Judi Dench and Cate Blanchett. We round off the week's survey of Glass's operatic works with a brand-new recording of Glass's "From The Penal Colony" (2000), based on Kafka's short story, and performed by Music Theatre Wales, the ensemble that gave the work's UK premiere in 2010.
Finally - two world premiere recordings: Glass's most recent concerto - which doubles as a ballet (!) - and an instrumental work for two pianos. At the age of 75, is there a new 'classical' strain emerging in his music?
Etude no.2 (arr for steel drums)
New York University Steel Drum Ensemble
First Day Of School; The Harts; Sheba and Steven; Someone In Your Garden; Someone Has Died; Betrayal (Notes On A Scandal)
Studio Orchestra
In The Penal Colony: Scenes 12, 13 and 14
Michael Bennett (the Visitor)
Omar Ebrahmin (the Officer)
Music Theatre Wales Ensemble; Michael Rafferty (conductor)
Duet No.1; Part 1 (Double Concerto for Violin and Cello no.1)
Tim Fain (violin); Wendy Sutter (cello)
The Hague Philharmonic; Jurjan Hempel (conductor)
IV. (Four Movements for Two Pianos)
Dennis Russell Davies and Mari Namekawa (pianos).
More episodes
Next
You are at the last episode