Main content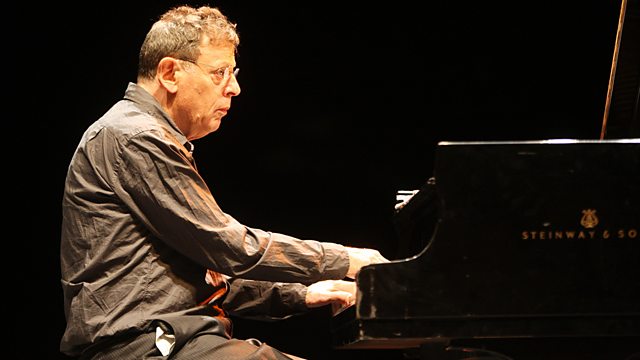 Donald Macleod explores Philip Glass's huge influence on pop and rock, and introduces a new work for solo cello.
Donald Macleod continues the week of exclusive interviews with the composer Philip Glass, first broadcast to mark the composer's 75th birthday in 2012.
Philip Glass's music has captured the popular imagination - and come to soundtrack our lives - in a way almost unthinkable for a contemporary composer. Yet Glass also divides opinion like no other figure in contemporary music. A one-time "enfant terrible" of the New York arts scene of the 60s and 70s - whose simple, seemingly endless repetitions would stretch for hours and enrage critics - Glass has long since swapped hardline minimalism for a comfy, lushly Romantic sound...and alienated many of his former fans. Disarmingly frank, witty and engaging, Philip Glass has always wryly put aside criticism of his commercial success. All this week on Composer Of The Week, Donald Macleod talks to him about his extraordinary life in music, with a playlist that encompasses his entire career.
Taking centre stage in today's episode: Philip Glass's remarkable "Songs and Poems for solo cello", written in 2007 for his then partner, cellist Wendy Sutter, and hailed by critics as one of the most original - and remarkable - new works to come from the composer's pen: perhaps the finest work for solo cello since Britten's Cello Suites.
Before that, Donald Macleod talks to the composer about his strong interest - and influence on - contemporary pop and rock music, introducing a pop song written by the composer for Linda Ronstadt, and his first symphony "Low" (1992), directly inspired by the music of David Bowie and Brian Eno. We'll also hear from Glass's controversial opera "The Voyage", composed for the US quincentennial in 1992, and the most expensive commission in the Met's history, and a recent dance music remix of the composer's Piano Etude no.2 by the Brazilian hip-hop DJ Luciano Supervielle.
Philip Glass & Suzanne Vega: Freezing (Songs From Liquid Days)
Linda Ronstadt (solo and backing vocals); Kronos Quartet
I. Subterraneans (Symphony no.1 "Low" (from the music of David Bowie and Brian Eno))
Brooklyn Philharmonic Orchestra; Dennis Russell Davies (conductor)
The Voyage: Act II, scene I
Karen Robertson (Isabella)
Bruckner Orchester Linz and Chorus of the Landestheater Linz; Dennis Russell Davies (conductor)
Songs and Poems no.1 for solo cello (excerpts)
Wendy Sutter (solo cello)
Etude no.2 [remixed Luciano Supervielle].