Main content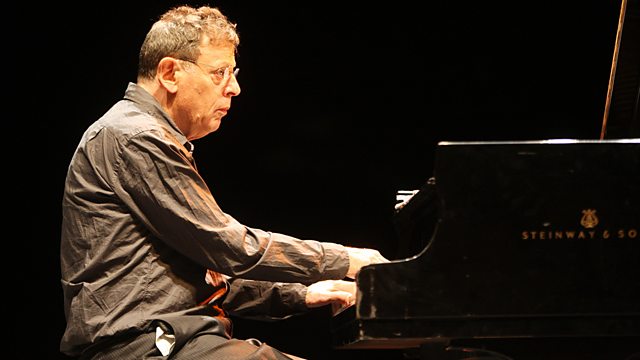 Apprenticeship in the Shape of a Square
Donald Macleod focuses on Philip Glass's early years, exploring how the influence of Indian music gave birth to minimalism, and introducing a recent symphony.
One of the most influential - and controversial - composers of our time...in conversation with Donald Macleod, in a series of exclusive interviews recorded to mark the composer's 75th birthday in 2012.
Philip Glass's music has captured the popular imagination - and come to soundtrack our lives - in a way almost unthinkable for a contemporary composer. That characteristic, much-imitated Glass 'sound' - with its rocking minor chords, hypnotic arpeggios and glacially unfolding textures - has entered our psyche as the music to countless documentaries and movies...and made Glass perhaps the most commercially-successful composer in history. At the peak of his early fame in the mid 1980s, Philip Glass was so famous that he could lend his face to adverts for luxury watches and scotch whisky, and have his music listened to by nearly a billion people at the Olympics opening ceremony...
Even now, Glass enjoys name recognition and a mainstream reach that most living composers can only dream of. And it's not just the public that can't get enough of his work. He's has been hailed as an inspiration by countless rock, pop and electronic musicians - from David Bowie to Foday Musa Suso, Paul Simon to Aphex Twin - whilst securing his place in the classical canon as the most prolific and important composer of opera since Britten.
Yet Philip Glass also divides opinion like no other composer. A one-time "enfant terrible" of the New York arts scene of the 60s and 70s - whose simple, seemingly endless repetitions would stretch for hours and enrage critics - Glass has long since swapped hardline minimalism for a comfy, lushly Romantic sound...and alienated many of his former fans.
Astonishingly prolific (his catalogue features several hundred works, including nearly two dozen operas and film scores and nine symphonies) - Glass has more recently faced charges of 'selling out' - blandly recycling his familiar sound over and over in diluted form for a mainstream fanbase...
Disarmingly frank, witty and engaging, the composer has always wryly put aside criticism of his commercial success, and the familiar tropes of his music. "It's all nothing new", he once quipped, "I didn't invent the arpeggio".
All this week on Composer Of The Week, Donald Macleod talks to Philip Glass about his extraordinary life in music in an interview first broadcast in 2012 to mark the composer's 75th birthday. The series features a playlist that encompasses Glass's entire career: from early, uncompromising minimalist experiments, to his acclaimed 'portrait operas' Einstein On The Beach and Satygraha to the award-winning film scores to Koyaanisqatsi and Notes On A Scandal.
Donald will also be exclusively showcasing some of Glass's most recent works from the past decade, including Music Theatre Wales' brand-new recording of Glass's Kafka opera In The Penal Colony (2000), his Eighth Symphony (2005), the Double Concerto for violin and cello (2010), and the composer's brilliant, and critically-acclaimed Songs And Poems For Solo Cello (2007).
And listen out for several unusual surprises...including music composed for the kids' show Sesame Street (!), a pop song composed for Linda Ronstadt, and remixes and arrangements of Glass's work reflecting the massive influence the composer has had on the popular and electronic music worlds: from the NYU Steel Drum band to the Brazilian hip-hop DJ Luciano Supervielle...
In the first episode of the series, Philip Glass recounts the strong influence that Paris had on his early musical development - as well as his 'terrifying' lessons with Nadia Boulanger...
He also talks to Donald Macleod about how a fortuitous collaboration with Ravi Shankar was to shape his entire musical future - drawing from the processes and rhythms of Indian music to help forge the style which would later be termed 'minimalism'.
The week begins with one of his most famous works - the iconic 'Facades' (1982) for two saxophones and orchestra, which has served as the soundtrack of dozens of television and radio documentaries - before we hear two early experimental works: the Indian-inspired First String Quartet and the highly minimalist "Music In The Shape Of A Square" (1967), for two flutes.
Finally - a complete sea-change, as the composer introduces his lush, sweepingly Romantic Eighth Symphony (2008) - as Donald tries to pin down how his musical language can have evolved so radically...
More episodes
Previous
You are at the first episode