Main content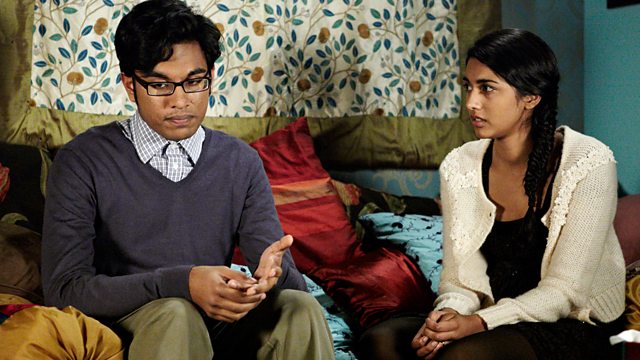 08/03/2012
The Masoods are stunned by Zainab's shock admission - will Tam and Afia ever be able to forgive her actions the night Yusef died? Anthony and Amira's romantic evening ends badly.
Afia realises that Zainab told Yusef she was in the fire and declares Tamwar's burns are Zainab's punishment. Tamwar stops her storming out. At the Argee Bhajee, Kim propositions Ali the waiter and he snaps, brandishes a wooden spoon and insists no one leaves. Afia and Tamwar reminisce about the start of their relationship. Zainab doesn't want Afia's forgiveness but pleads with Afia not to take it out on Tamwar. Afia's saddened that she used to be so full of fun. Later, she watches tenderly as Tamwar comforts Ali. Tamwar and Afia agree to try with each other.
Christian and Zainab are left alone as the rest of the family run to the restaurant. Zainab confesses her part in Yusef's death and worries no one will forgive her. Christian forgives her, and tells her he didn't choose to be gay any more than she chose to be a Muslim woman. Zainab wants reassurance that he loves Syed, tearfully admitting that she wasn't listening before. Zainab invites Christian to stay for dinner and to attend the Khatam. The family toasts to the future.
Lauren moves into the Moons'. Amira sobs to Lauren that she wanted to feel love, but being with Anthony felt wrong. Amira tells Anthony she doesn't know who she is. She loves Yasmin but she expected to have a husband as well as a child. Amira tells Syed to look after Yasmin for a few days – he'll never love her and she's leaving. Syed lies to the Masoods that Amira's gone to see Qadim as he's been taken ill. In tears, Amira leaves the Square in a cab. Denise toasts to poverty and suggests Kim settle down. Later, Denise and Kim are stunned to discover an envelope revealing Zainab's given them £130,000.
Music Played
Timings (where shown) are from the start of the programme in hours and minutes
Credits
| Role | Contributor |
| --- | --- |
| Amira Masood | Preeya Kalidas |
| Actor | Marc Elliott |
| Christian Clarke | John Partridge |
| Zainab Khan | Nina Wadia |
| Masood Ahmed | Nitin Ganatra |
| Tamwar Masood | Himesh Patel |
| Afia Masood | Preeya Kalidas |
| Ali | Miren Patel |
| Kim Fox | Tameka Empson |
| Denise Fox | Diane Parish |
| Anthony Moon | Matt Lapinskas |
| Tyler Moon | Tony Discipline |
| Lauren Branning | Jacqueline Jossa |
| Executive Producer | Bryan Kirkwood |
| Director | Mickey Jones |
| Writer | Christopher Reason |