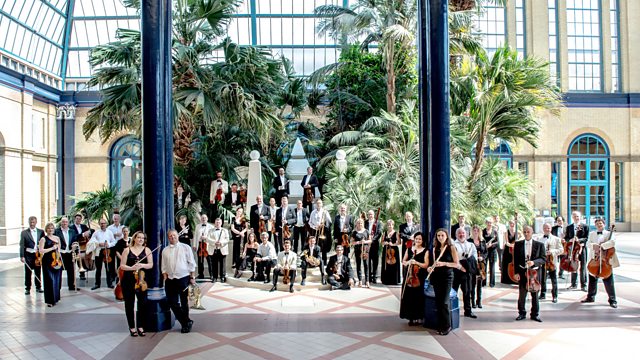 BBC Concert Orchestra Celebrating 60
Celebrating 60 - Ken Bruce salutes the BBC Concert Orchestra on their 60th anniversary. This week's featured archive concert dates from September 1983 on the occasion of the 30th anniversary of Radio 2's weekly live music show - Friday Night is Music Night.
1953 was a very busy music year in the BBC. The previous year saw the formation of the "new" BBC Concert Orchestra - "an orchestra capable to putting over the finest light music to great effect". The following summer the BBC broadcast a series of light music concerts from the Royal Festival Hall - entitled BBC International Festival of Light Music. Then that September a new programme was commissioned specifically to show off the talents of the BBC Concert Orchestra. Its brief was "to create a Friday-night show which would help people relax after the week's hard work and put them in the right mood for a happy weekend". It was called Friday Night Is Music Night and 59 years later it remains one of Radio 2's longest running programmes.
The 30th anniversary concert took place on 23rd September 1983 at the Fairfield Hall in Croydon - the orchestra is conducted by Kenneth Alwyn with guests Rosemary Ashe; Cynthia Glover, John Lawrenson, Robert Docker(piano) and the Band of the Grenadier Guards. The presenter is Robin Boyle and the programme includes music from the Legend of the Glass Mountain(Miklos Rozsa); Robert and Elizabeth(Ron Grainer); Oklahoma(Rodgers and Hammerstein) and songs from a what was a new show in 1983 - yet to be staged in London - Follies by Stephen Sondheim.
In this 11-part series, Ken Bruce is trawling the BBC Concert Orchestra archives for some classic performances from their first 60 years.
A feast for light music fans - each week the series will broadcast a show from the orchestra archives. The series will feature archive performances from the likes of light music legends Sidney Torch; Vilem Tausky; Robert Farnon; Eric Coates; Willi Boskovsky; Stanley Black; and Ron Goodwin. Plus concert performances from Matt Monro and Dudley Moore as well as more recent collaborations with Michael Bublé; Lionel Richie and Peter Gabriel.
Last on