Main content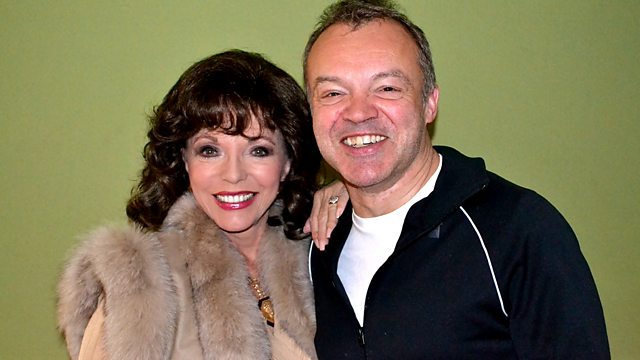 Joined by Joan Collins and Jodie Prenger
JC and JP dropped in to see Graham this week: Joan Collins chatting about her new one-woman show; and theatre star Jodie Prenger discussing the Queen coming to see her new play.
It was glamour central this week as Dynasty icon Joan Collins and West End star Jodie Prenger popped in to see Graham in a show that also revealed why royal banquets leave you hungry, the consequences of slipper stealing and lots of varied and detailed information on how to trap an office thief.
Justin Wright in Nottingham was officially named and shamed as the man responsible for the latest 'I Can't Believe It's Not Better' track, Jim Diamond's 'I Should Have Known Better'. It's almost like Jim was singing this directly to you Justin.
Grill Graham really struck a chord with the nation as we were inundated with advice for a video game widow and a victim of office crime. Bad news for console playing boyfriends and thieving colleagues everywhere...
Joan Collins was Graham's first guest and held court on many, many subjects, including 'kids today', going out in disguise, being punched by Linda Evans and partying with Lana Turner (and her airplane cleavage).
In the latest 'Tune With A Tale' Trevor Hogg in Whitley Bay chose a song titled 'Even Trolls Love Rock & Roll', which was about...well, trolls who love rock & roll.
And after 12 o'clock Jodie Prenger chatted about her new play, finding a love at a wake and throwing knickers at Graham. You had to be there...
Music Played
Add music you love and enjoy it with My Tracks
Justin Wright in Nottingham's 'I Can't Believe It's Not Better' track

Joan Collins' song selection

'Tune With A Tale' selection of Trevor Hogg in Whitely Bay

Song choice of Jodie Prenger