Main content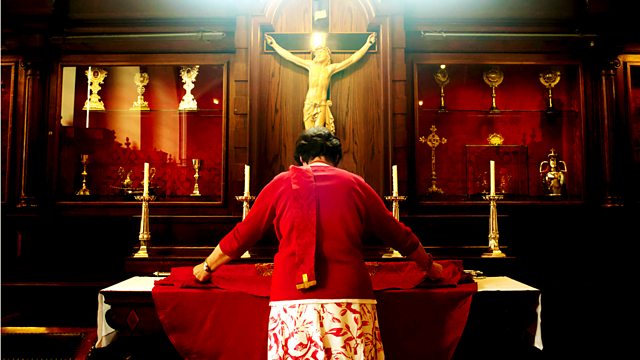 Series about being Catholic in Britain today focuses on the female staff, volunteers and congregation of Westminster Cathedral, who talk about what Catholicism means to them.
In the third of three films exploring Catholic identity, award-winning documentary filmmaker Richard Alwyn talks to Catholic women about how Catholicism has shaped their lives.
With remarkable behind-the-scenes access to Westminster Cathedral, this is a moving and intimate film in which Alwyn meets the female staff, volunteers and congregation of the cathedral. Set against the rhythm of cathedral life, Alwyn's meetings are brief but intense encounters that describe what it is to be a Catholic woman in Britain today.
Rose is second-in-charge of the cathedral's sacristy, preparing the altar for six daily masses and making sure the priests have all they need. It's like running a busy train station. A convert, Rose is the consummate 'handmaid of the Lord' for whom Catholicism is an anchor in life.
Jennie, on the other hand, is a cradle Catholic who feels her education by nuns was repressive, with an unspoken emphasis on sex - and especially abstaining from it. She feels her Catholic 'indoctrination' was a cross for her generation to bear. Despite that she staffs the cathedral's information desk once a week and feels her Catholicism is a valued part of her identity, having developed over the years into an appreciation of the spirit of faith more than the letter of the Church.
Elsewhere, Alwyn meets a retired doctor who feels alienated by the Catholic Church's teachings on Aids and contraception and its recent history of child abuse. No longer practising, she nonetheless feels her Catholic identity has provided her with an important moral compass for the chaos of life.
These and other encounters form the backbone of Alwyn's moving film. What emerges is a portrait of Catholicism as an identity that, whether positive or corrosive, is always tenacious and hard to leave behind. Once a Catholic...
More episodes
Next
You are at the last episode
Credits
| Role | Contributor |
| --- | --- |
| Producer | Jennifer Forde |
| Producer | Jennifer Forde |
| Director | Richard Alwyn |
| Director | Richard Alwyn |
| Executive Producer | Archie Baron |
| Executive Producer | Archie Baron |