Main content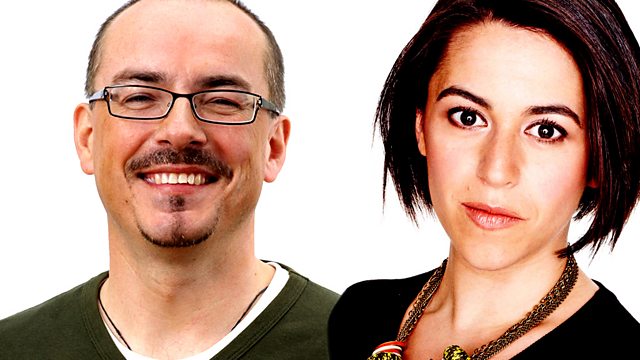 Concert Highlights from Across England
Andrew McGregor and Suzy Klein with concerts from across England: including Plymouth Pavilions, Christ Church, Cockermouth, the Cadogan Hall, London, and the Assembly Rooms, Derby.
A BBC-led weekend of over 100 live music events across the UK - from Cornwall to the Shetland Isles and Belfast to Birmingham - launching the nationwide countdown to the London 2012 Festival.
Radio 3 celebrates live music-making all weekend, handing on the baton from concert to concert, featuring a wide range of professional and amateur events and talking to the people who've made it all happen.
This morning Andrew McGregor and Suzy Klein present highlights from Music Nation concerts across the full length of England - Plymouth to Cockermouth and beyond.
At the Plymouth Pavilions, the BBC Concert Orchestra and conductor Matthew Coorey celebrate Music Nation in style with celebrity local guest Seth Lakeman in new arrangements of his material made specially for the occasion by Anne Dudley. Musical families from across the region join together as the Devon and Cornwall Family Orchestras to perform alongside the BBC CO in a specially devised piece by Tim Steiner. And the Plymouth audience also get a chance to let their hair down and participate in a fun sing-a-long.
At Christ Church in Cockermouth, Cumbria, the Scottish Ensemble are joined south of the border by English trumpeter Alison Balsom. Alison solos in James MacMillan's Seraph - a joint commission by the Scottish Ensemble and Perth Concert Halls - and the Ensemble play Tchaikovsky's well-loved Serenade for Strings.
At London's Cadogan Hall, the City of London Sinfonia and conductor Stephen Layton retrace the steps of Captain Scott's ill-fated expedition to the South Pole in music, images and words. Excerpts from Vaughan Williams's film score Scott of the Antarctic are interwoven with moving readings from Scott's diary, and there's a world premiere of Cecilia McDowall's Seventy Degrees Below Zero, setting words by poet Seán Street inspired by Scott's own letters.
At the Assembly Rooms in Derby, another brand-new work specially created for Music Nation: Invocation, by composer and multi-instrumentalist Tunde Jegede, who's equally at home on the worlds of Western classical, African and pop music. Invocation is scored for orchestra, African percussion and two soloists in dialogue - a cello and a contemporary African dancer. Cellist Matthew Barley and dancer Bode Lawal join conductor Nicholas Collon and sinfonia ViVA, who co-commissioned the work with Orchestras Live.
And at the Exchange in Sturminster Newton, Dorset, the contemporary music ensemble of the Bournemouth Symphony Orchestra - Kokoro - are joined by amateur groups from across the county to explore music with themes of local myth, legend or landmark. Music by Hywel Davies and Stephen McNeff - whose Bob the Fiddler and The Welshnut Tree feature the combined forces of community choir and string quartet in settings of poems in the local Dorset dialect by nineteenth century poet William Barnes. Plus the Memory Lane Big Band.
Further information about Music Nation:
Music Nation is a nationwide weekend of over 100 live music events across the UK on 3 & 4 March 2012. Devised and led by the BBC the weekend is the first nationwide countdown event to the London 2012 Festival, and includes performances by all of the BBC's performing groups.
From Cornwall to the Shetland Isles and Belfast to Birmingham, Music Nation is an unprecedented collaboration of the UK's orchestral and music-making communities, built primarily around classical music, but taking in jazz, folk and world music.
Music Nation is a partnership with Arts Council England, the Association of British Orchestras (ABO), British Association of Concert Halls (BACH), Orchestras Live, Making Music, Conservatoires UK and Locog to celebrate the richness, diversity and excellence of Britain's musical life.
BBC Radio 3, Music Nation's principal media partner, will broadcast live content throughout the weekend, with additional programming on BBC Radio1, 1Xtra, BBC Scotland, Wales, Northern Ireland and BBC local radio.
For further details on all the events visit bbc.co.uk/musicnation.