Main content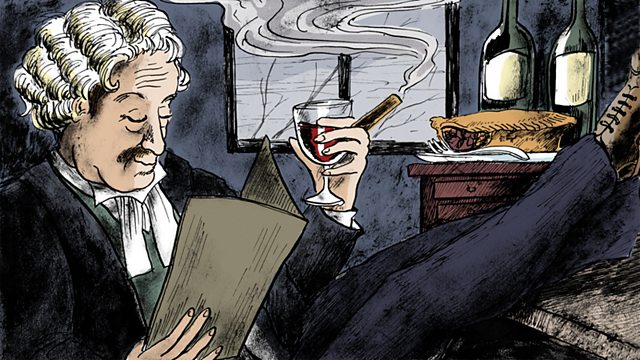 Rumpole and the Explosive Evidence
1960. Hilda's had a baby son, Nicholas. Rumpole, awash with flu, defends a safe-blower and exposes the dubious dealings of a senior police officer.
By John Mortimer
Adapted by Richard Stoneman
Starring Timothy West as Rumpole and Benedict Cumberbatch as the younger Rumpole.
Rumpole is in bed with flu, but more than happy to be called into work to escape the twenty four hour baby minding duties.
The case is the defence of a well known safe blower with lots of previous and Rumpole finds himself alone and without a leader, exposing the underhand behaviour employed by one Dirty Dickerson, a senior police officer who is quite prepared to tamper with evidence in order to frame well known criminals. In so doing however, he breaches one of the codes of procedure in court, and finds himself in danger of losing his right to work in court. However, help arrives from the intervention of a gentleman of the press.
Meanwhile, at Froxbury mansions, Rumpole forms a strong bond with his infant son in the watches of the night, when he talks over the intricacies of the case with him, and discovers that Hilda really does care about his career, and their future together.
Directed by Marilyn Imrie
A Catherine Bailey production for BBC Radio 4.
Credits
| Role | Contributor |
| --- | --- |
| Writer | John Mortimer |
| Adaptor | Richard Stoneman |
| Rumpole | Timothy West |
| Younger Rumpole | Benedict Cumberbatch |
| Hilda | Jasmine Hyde |
| Joyce Pringle | Alison Pettitt |
| Sam Ballard | Michael Cochrane |
| DI Dickerson | John Ramm |
| Sir Oliver Oliphant | Geoffrey Whitehead |
| Philbeam | Geoffrey Whitehead |
| Erskine-Brown | Nigel Anthony |
| Charlie Wheeler | Nigel Anthony |
| Henry | Adrian Scarborough |
| Mr Fingleton | Adrian Scarborough |
| Director | Marilyn Imrie |
| Producer | Catherine Bailey |