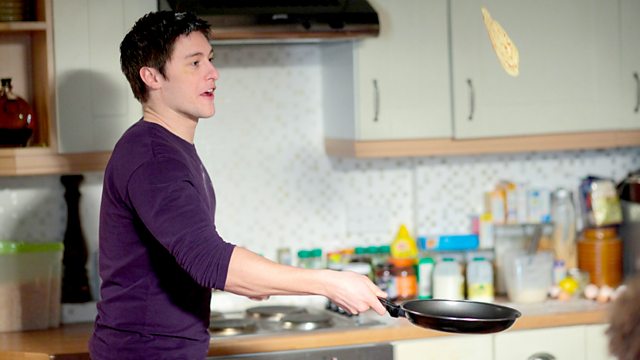 21/02/2012
Derek sees an acquaintance from the nick, Andy, delivering vodka to the Vic and offers him a one off job. It's Jack's day with Amy and he's angry when Roxy fails to show up. Derek thinks the Mitchells are laughing at them. Apologetic Roxy arrives late; Derek thinks Jack's going soft. Alfie's hesitant when Roxy urges him to call the vodka supplier. Derek takes Jack for a drive and points out a girl in school uniform laughing with her friends - she's his daughter, Chrissy. Derek was frozen out by her mother and doesn't want that for Jack. Roxy plays a voicemail on Derek's mobile - half the vodka delivery was missed and will arrive tomorrow. Derek gives Andy an envelope of cash and the photo of Roxy. Andy says he'll think about it and watches an unsuspecting Roxy as she walks home.
Anthony's keen to introduce Amira to the family, Jean cooks a halal roast but objects to Janine being included. Michael's intrigued about Amira's necklace, Amira reveals it was a gift from Anthony. Tyler's furious Anthony lied and thinks Amira's a gold digger. Later, Anthony kisses Amira passionately but she pulls away. Anthony clocks Amira looking disdainfully at the messy living room.
Rose gets another letter from 'Snuggle Puss' but clams up when Dot wants more information. Fat Boy takes Rose to the Vic while Dot and Cora search the house. Dot's horrified to discover Rose's letters - 'Snuggle Puss' is serving a life sentence in prison.
Fat Boy awkwardly wishes Tyler luck when he goes for tea with Bianca and the kids. He's upset this makes Tyler and Whitney official. Tyler's a hit as he makes pancakes with the kids.
Cora's furious by the mess left on Turpin Road from Manic Mondays. Janine offers Fat Boy a regular DJ gig.
Last on
Credits
| Role | Contributor |
| --- | --- |
| Andy | Chris Reilly |
| Roxy Mitchell | Rita Simons |
| Derek Branning | Jamie Foreman |
| Jack Branning | Scott Maslen |
| Alfie Moon | Shane Richie |
| Billy Mitchell | Perry Fenwick |
| Patrick Trueman | Rudolph Walker |
| Jean Slater | Gillian Wright |
| Arthur 'Fat Boy' Chubb | Ricky Norwood |
| Dot Branning | June Brown |
| Cora Cross | Ann Mitchell |
| Rose Cotton | Polly Perkins |
| Anthony Moon | Matt Lapinskas |
| Amira Masood | Preeya Kalidas |
| Tyler Moon | Tony Discipline |
| Whitney Dean | Shona McGarty |
| Bianca Butcher | Patsy Palmer |
| Tiffany Butcher | Maisie Smith |
| Morgan Butcher | Devon Higgs |
| Executive Producer | Bryan Kirkwood |
| Director | Daniel Wilson |
| Writer | Lucy Gannon |
| Janine Butcher | Charlie Brooks |
| Michael Moon | Steve John Shepherd |
| Shirley Carter | Linda Henry |
| Shenice Quinn | Lily Harvey |