Main content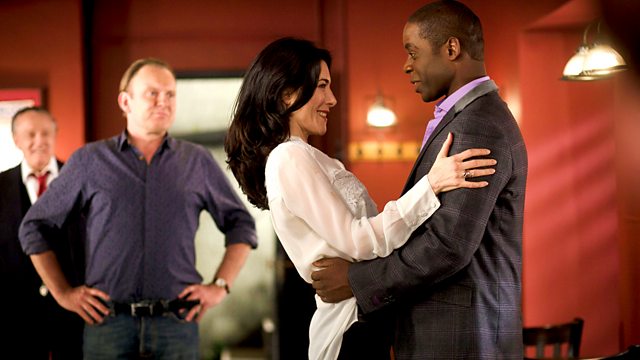 Drama series about a group of con artists. It is the end of the road for Mickey and the gang, but will they go out in a shower of money or a hail of bullets?
Mickey has found the gang a high-rolling mark who could earn them their biggest jackpot ever - Bahrain businessman Madani Wasem. Having just inherited over 850 million from his father, Wasem is now on a mission to prove his prowess on the stock markets. However, this mark has a darker side. Wasem's mission is to take control of his father's business, but with the key shareholders siding against him he's taken to using murder and intimidation to make his point. This includes the employment of an enforcer, an unseen murderer brought in to dispose of anyone who gets in Wasem's way.
As the gang research Wasem's dealings it's clear that he's the kind of mark they usually avoid, but Mickey has his own reasons for taking the risk. As he reveals to Albert, he's tired of grifting, and this time a short rest overseas won't cover it; it seems as if Mickey's ready for retirement. This comes as a blow to the others but the prospect of a 10 million pound jackpot is too good to turn down.
The con is set - Mickey tries to hook Wasem by posing as a well-respected stockbroker who's recently been on a winning streak. Stage two is to snare the mark with the promise of guaranteed profits if he invests big, and Mickey's plan is to pretend that they have hacked into the London Stock Exchange to be able to intercept prices a fraction of a second before the rest of the world sees them. But there are more surprises to come and shocked faces aplenty when Wasem's new broker turns out to be none other than Stacie Monroe.
Retirement and the biggest jackpot of their lives are just one deal away but success hangs on a knife-edge - will it be a spectacular victory or a bloody end for our gang?
More episodes
Next
You are at the last episode
Credits
| Role | Contributor |
| --- | --- |
| Mickey Stone | Adrian Lester |
| Albert Stroller | Robert Vaughn |
| Ash Morgan | Robert Glenister |
| Sean Kennedy | Matt Di Angelo |
| Emma Kennedy | Kelly Adams |
| Eddie | Rob Jarvis |
| Stacie Monroe | Jaime Murray |
| Madani Wasem | Abhin Galeya |
| Barir | Selva Rasalingam |
| Lee | Graham Bryan |
| Nick | Gary Beadle |
| Pinstripe 1 | William Ellis |
| Pinstripe 2 | Grant Ibbs |
| Writer | Tony Jordan |
| Producer | Jane Hudson |
| Director | Alrick Riley |