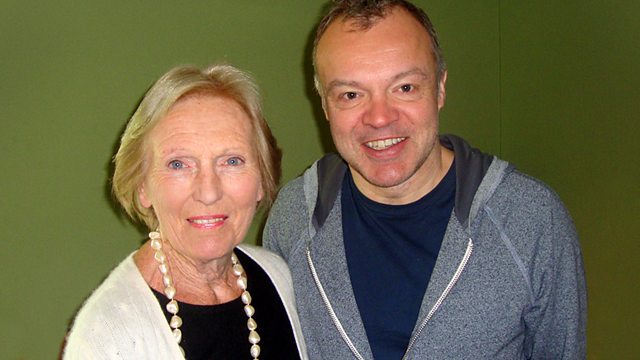 with guests Alexandra Burke and Mary Berry
Graham's first guest of the day was Alexandra Burke who helped to take his mind off his 'travel jab arms', a result of having inoculations ready for his trip to Azerbaijan for Eurovision in May. Alexandra smelt lovely, she's got the X-Factor and she's also got a new single coming out called 'Elephant', which even though it's not your usual Radio 2 fare, went down well and had people making plans to visit their local nightclub! She spoke about her appearance on the X-Factor judging panel covering for Kelly Rowland, told how she loves baking and how she could represent the UK if there was ever a competition for talking! (She'd win.)
After 12:30, the lovely cook, not chef, Mary Berry popped in to talk about the reissue of her 'Complete Cookbook' which contains over 1,000 recipes! She explained how she stays so slim, what it's like to be a judge on 'The Great British Bake Off' and answered many listener questions. And she tasted some shortbread biscuits that Bobbie Pryor's father had baked, and gave them a big thumbs up! Well done Bobbie's dad.
In this week's 'Grill Graham', Irene in Manchester had a real tricky dilemma about her son's imminent wedding which could be summed up as "top table or not top table?". That was the question, but what was the answer?
And then Anna in Surrey wanted advice on what to do about a smelly cab driver who she always seems to have the misfortune of getting each evening at her local train station.
Paul in North Devon was responsible for choosing Middle Of The Road's 1971 No.1 'Chirpy Chirpy Cheep Cheep' for 'I Can't Believe It's Not Better', and Helen Graham in the hills up in Perthshire chose the manic but funny 'Classified' by C.W. McCall for 'Tune With A Tale'.
Last on