Main content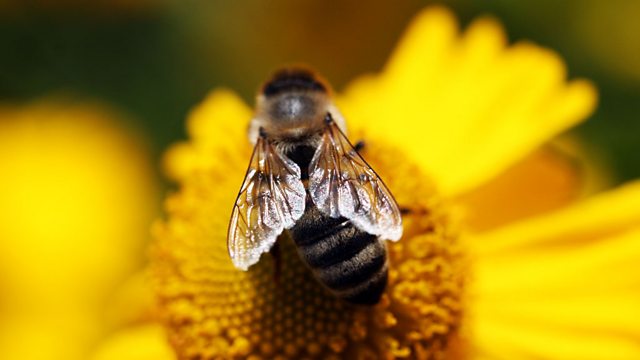 Towns, Gardens and Britain in Bloom
Gardener and broadcaster Sarah Raven finds out whether British gardens could become a network of mini nature reserves for pollinating insects.
In the second programme of this three-part series, Sarah Raven takes her mission to halt the rapid decline in Britain's essential bees, butterflies and pollinating insects to our towns, and challenges the RHS Britain in Bloom competition to make their floral displays more nectar- and pollen-rich, to help to increase the amount of food and habitat for pollinating insects throughout the spring and summer months.
With the use of intensive farming methods, regionalisation of crops, and the loss of wildflower meadows and grasslands estimated at around 98 per cent, the countryside can be feast or famine for the pollinators. So Sarah finds out whether British gardens could become a network of mini nature reserves for the pollinating insects.
Sarah starts her campaign by attempting to change the attitude of Harrogate's successful gold medal-winning Britain in Bloom group. She challenges them to embrace nectar- and pollen-rich flowers over traditional bedding plants. Will the Bloom group take to her plans and ideas, or will the begonia bunch stand firm?
Sarah also challenges the UK gardening industry, the Horticultural Trades Association and the Royal Horticultural Society to champion pollinating insects by launching a 'pollinator-friendly' logo at the Chelsea Flower Show. The logo and label would enable gardeners to identify the best plants for bees and butterflies throughout garden centres and nurseries in the UK.
And at home, Sarah meets expert garden naturalist Steve Head, and explores her own garden's suitability for insect pollinators. Inspired by what she discovers, she develops a nectar garden - a mini oasis for pollinators.
Credits
| Role | Contributor |
| --- | --- |
| Presenter | Sarah Raven |
| Presenter | Sarah Raven |
| Producer | Andy Vernon |
| Producer | Andy Vernon |
| Director | Andy Vernon |
| Director | Andy Vernon |
| Executive Producer | Sarah Moors |
| Executive Producer | Sarah Moors |