Main content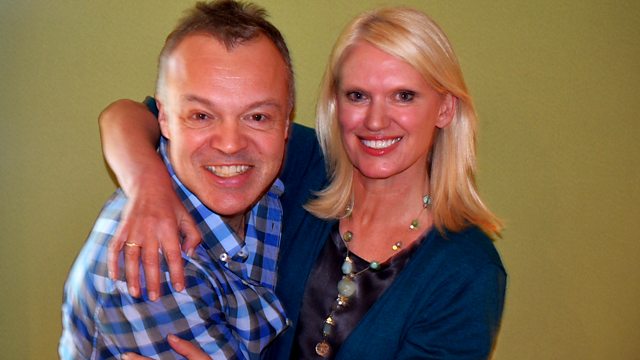 John Barrowman & Anneka Rice drop in to see Graham
Actor, singer, presenter and now author John Barrowman joins Graham to talk about his new sci-fi book for children. Plus Anneka Rice chats about joining Radio 2 at the weekends.
Given that John Barrowman is a force of nature, we might have been forgiven for wondering if studio 6C could cope with TWO Barrowmans this week, but our fears were unfounded as John and big sister Carole charmed us with childhood tales and wowed us with details of their new book 'Hollow Earth'. In fact the pair gave Graham a world exclusive as they revealed the title of the next 'Torchwood' novel: 'Exodus Code'. Cue internet meltdown...
After 12 o'clock Graham welcomed the newest member of the Radio 2 family into the fold, as Anneka Rice swung by to tell us about her new Saturday morning show. She also chatted about mentoring Erin Brockovich, painting nudes in her spare time and why her short career break ended up lasting 18 years.
This week's 'I Can't Believe It's Not Better' song - 'Some Girls' by Racey - was so offensive to Chris Kirkpatrick in Walsall's mum when he was a child that she smacked him once for playing it. But there was no virtual smackdown coming Graham's way for once as your texts and emails suggested that most of you seemed to like it - go figure.
And Tony Roberts in the Wirral picked an ode to growing old gracefully as this week's 'Tune With A Tale', pet shop boys 'Being Boring'. Wise words, mostly ignored...