Main content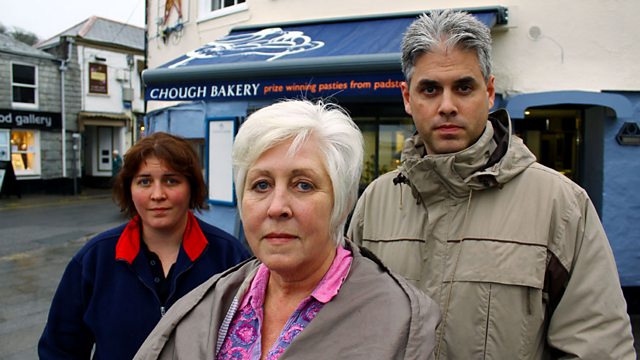 Series following family run businesses. Alex Polizzi helps a family bakery in scenic Padstow, Cornwall, which does well in the summer but struggles every winter.
Alex Polizzi sets out to wage a one woman campaign to save Britain's family businesses. Many small and medium family-run firms are going to the wall in the current climate, but it's a sector that's vital to the British economy.
In this episode, Alex has been asked to help a family bakery in dire straits in scenic Padstow, Cornwall.
The Chough Bakery, owned and run by the Eade family, does well in the summer months when over five million people visit the county, but they virtually go out of business every winter. Every year they lurch along, but with growing competition in this upmarket foodie town their pasties, cakes and loaves look shabby and the lack of year round trade threatens their very existence.
But beyond the business problems is a family in crisis. Mum Elaine rules the roost and decides on everything that happens. Her controlling ways mean that her children Greg and Luisa feel powerless to take the business on to the next level - and now the tension between brother and sister has boiled over.
Luisa has spent all her adult life in the pasty kitchen to earn her directorship of the business, while brother Greg, also a director, has recently arrived and only visits the business once a week. His lack of product knowledge and unwillingness to throw himself into the business seems to be holding back their ability to wholesale their products further afield.
Alex gets frustrated as even after initiating business fix after fix, they seem unable to go forward because every family meeting descends into an argument. She even ropes in the help of her husband - who she runs a high end bakery with - to make sure their product is top notch.
But despite all her best efforts, Alex hits a brick wall.
Credits
| Role | Contributor |
| --- | --- |
| Presenter | Alex Polizzi |
| Presenter | Alex Polizzi |
| Series Producer | Kaye Godleman |
| Series Producer | Kaye Godleman |
| Director | Matthew Skilton |
| Director | Matthew Skilton |
| Executive Producer | Dan Adamson |
| Executive Producer | Dan Adamson |
| Executive Producer | Neil Edwards |
| Executive Producer | Neil Edwards |