Main content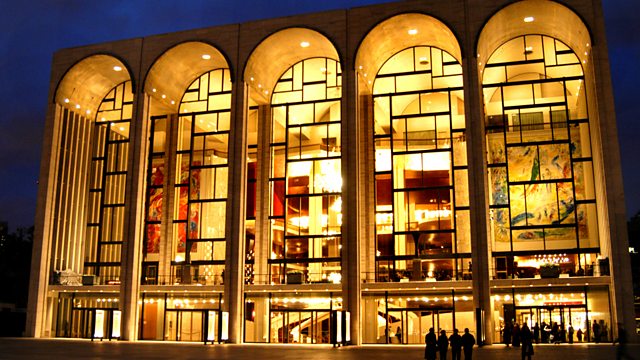 Wagner's Gotterdammerung
From the Metropolitan Opera in New York, Fabio Luisi conducts a lavish production of Gotterdammerung, Wagner's conclusion to his epic Ring Cycle.
Wagner's Götterdämmerung
Live from the Met
When the Rope of Destiny breaks and logs from the World Ash are piled around Valhalla, it marks the beginning of the end for the motley bunch of misfits from the fourth and final part of Wagner's epic operatic sequence. As in previous episodes, heroes, gods, dwarves and fresh-water mermaids accompany their scramble for the curse-laden ring with the usual oaths and arguments. But this time, what with cataclysmic fire and flood, there can be no sequel. Götterdämmerung - Twilight of the Gods - means just that.
The Met's no-expense-spared Ring has an impressive cast led by two of the great Wagnerian singers of our time, Deborah Voigt as Brünnhilde and Jay Hunter Morris as Siegfried.
Presented by Margaret Juntwait with guest commentator Ira Siff
Brünnhilde..... Deborah Voigt (Soprano)
Gutrune..... Wendy Bryn Harmer (Bass)
Waltraute..... Waltraud Meier (Mezzo-soprano)
Siegfried..... Jay Hunter Morris (Tenor)
Gunther..... Iain Paterson (Baritone)
Alberich..... Eric Owens (Baritone)
Hagen..... Hans-Peter König (Bass)
First Norn..... Maria Radner (Contralto)
Second Norn..... Elizabeth Bishop (Mezzo-soprano)
Third Norn..... Heidi Melton (Soprano)
Woglinde..... Erin Morley (Soprano)
Wellgunde..... Jennifer Johnson Cano (Soprano)
Flosshilde..... Tamara Mumford (Mezzo-soprano)
New York Metropolitan Opera Chorus
New York Metropolitan Opera Orchestra
Conductor....Fabio Luisi.