Main content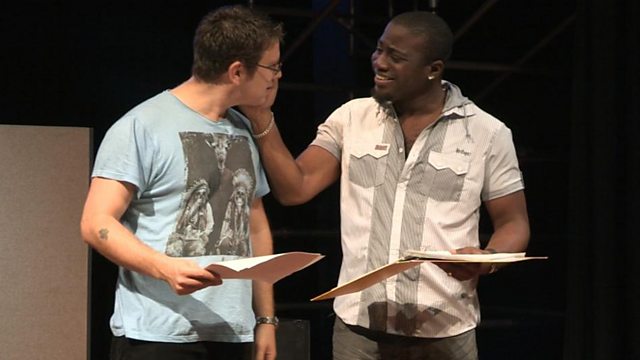 Acting Around Words
Frantic Assembly and Cardboard Citizens are among the theatre companies revealing how actors and directors transform performances with movement, gesture, and improvisation.
Acting Around Words unlocks the professional theatre world by opening up the strategies and practices of the rehearsal room. Its focus is on the physical side of performance, exploring how meaning is made through an actor's physical choices and how these underpin and make sense of the spoken words.
Looking at the power of physical presence and body language, and following the work of four professional companies, this reveals key moments of experimenting with distance and status, emotional range and emotional restraint, a series of approaches to understanding character objectives and an introduction to the heart of physical theatre.
The aim is to encourage physical investigation and build instinct and confidence in this area so the programme is packed with transferable techniques that can be experimented with straight away.
The programme visits four very different theatre companies and plays, which allows an opportunity to explore a range of styles. In the play Fit and Proper People, the world of football management provides an opportunity for actors at the Soho Theatre to explore the battle of the scene and changes in status. The Cardboard Citizens' production of Three Blind Mice reveals how trying out extremes of emotion can dramatically change the feel of a scene. Actors from Shared Experience explore how working without words can open up the conflicting objectives in a scene. And actors from Frantic Assembly show how skills can be safely explored and developed through trust, to allow a complex movement sequence to be more than just beats and shapes on the stage, but a living story.
Featuring interviews with directors including Steve Marmion, Tony McBride, Adrian Jackson, Polly Teale and Scott Graham and performances from actors including Katy Stephens, Steven Hartley, Andre Skeete, Jonathan Whitty, Natasha Gordon, Demi Oyediran, Sian Philips, Sam Cox, Leanne Rowe and Edward Bennett.
For Key Stage 4 and beyond.
Featured in...
KS4. Inspiring short films exploring literature and drama for 14-16 year-olds.