Main content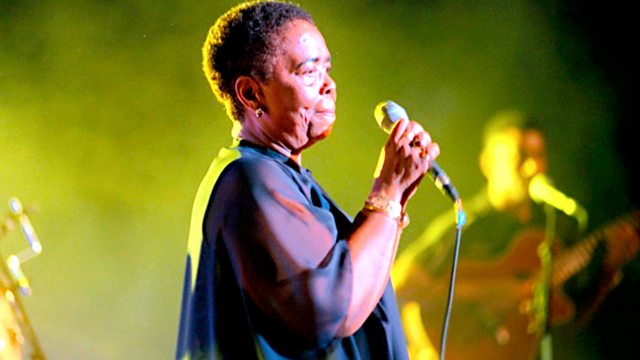 A Tribute to Cesaria Evora
Lucy Duran presents a tribute to the 'barefoot Diva', Cesaria Evora from Cape Verde, who died in December 2011. Featuring an exclusive session of Evora covers by Tito Paris.
Lucy Duran presents a tribute to the "bare-foot Diva", Cesaria Evora from Cape Verde, who died in December 2011. She was one of world music's biggest and most colourful stars, bringing the soulful "morna" stlye to a world-wide audience. Today's programme includes an exclusive session of Cesaria covers by another Cape Verdean star, Tito Paris. Plus a chance to hear a Cesaria Evora session from the World Routes archive presented by Charlie Gillett. Producer James Parkin.
Cesaria Evora was born on 27 August 1941 in Mindelo, São Vicente, Cape Verde. Aged 16, she was persuaded by a friend to sing in a sailors' tavern. In the 1960s, she started singing on Portuguese cruise ships stopping at Mindelo as well as on the local radio. It was only in 1985 when at the invitation of Cape Verdean singer Bana she went to perform in Portugal.
Evora's international success came only in 1988 with the release of her first album La Diva Aux Pieds Nus recorded in France. Her 1992 album Miss Perfumado sold over 300,000 copies worldwide, and included one of her most celebrated songs, "Sodade".
In 2003, her album Voz d'Amor was awarded a Grammy in the World music category.
In September 2011, Évora's agent announced she was ending her career due to poor health and on 17 December 2011, aged 70, Évora died in São Vicente, from respiratory failure.
Tito Paris was also born in Mindelo on the island of São Vicente, and began his professional career in a family of musicians when he was nine. He was around 19 when Bana, once again, invited Tito to join his band, The Voz de Cabo Verde.
In Lisbon, it was as a composer that he made a name for himself, writing songs for many singers including Cesaria Evora.