Main content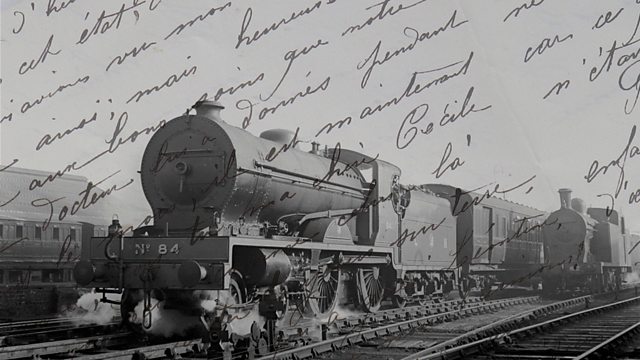 Different Trains
Texts and music on the theme of railways, with readings by Jonathan Pryce and Eleanor Bron. With Zola, Hawthorne, Dickens and Hardy, plus Honegger, Rossini, Offenbach and Ives.
In 1830, the first railway passenger service in the world was established between Manchester and Liverpool - ever since railways have exerted their special fascination, not least with writers and musicians. They can evoke adventure and romance, excitement, power and fear. Dickens, for example, had a strong dislike of trains, but couldn't ignore them in his fiction.
The path of a train can mirror a journey through life. The 19th century Parisian railway provided a powerful backdrop to Emile Zola's exploration of the darker side of human nature in La Bête Humaine; while for the American novelist Nathaniel Hawthorne, the train was the means of carriage for a soul's symbolic journey towards spiritual fulfilment. Arthur Honegger famously used an orchestra to mimic the sound of a great continental steam train, while Rossini - who detested the railway - took a certain pleasure in creating a musical depiction of a hypothetical railway accident. Trains mean rendezvous, departure, loss and transportation. For some, the incessant drive of a great steam engine is potent expression of a mechanised industrialized world. For one poet, the clickety-clack of metal wheels on metal rails evokes something primeval.
Jonathan Pryce and Eleanor Bron read poems and texts celebrating our relationship with trains by Emile Zola, Nathaniel Hawthorne, Charles Dickens, Wilfred Owen, Thomas Hardy, Philip Larkin, Leo Tolstoy and Primo Levi; alongside archive recordings from TS Eliot and John Laurie. Featured "Train" music includes musical thoughts from Arthur Honegger, Percy Grainger, Gioachino Rossini, Heitor Villa-Lobos, Mikhail Glinka, Charles Ives, Benjamin Britten, Rued Langgaard, Simon Bainbridge, Meade "Lux" Lewis and Elvis Presley.
Music Played
Timings (where shown) are from the start of the programme in hours and minutes
Émile Zola, trans. Roger Whitehouse

La Bête Humaine (The Beast Within) (excerpt), reader Jonathan Pryce

Robert Louis Stevenson

From A Railway Carriage, reader Eleanor Bron

Kenneth Graham

The Wind in the Willows - Toad's Adventures (excerpt), reader Jonathan Pryce

Simon Garfield

The Last Journey of William Huskisson (excerpt), reader Eleanor Bron

Simon Garfield

The Last Journey of William Huskisson (excerpt continued), reader Eleanor Bron

William McGonagall

The Tay Bridge Disaster, reader John Laurie

Jay Appleton

Clickety-Clack, reader Eleanor Bron. From Jay Appleton's collection 'Shadows of the Evening' published by Wildhern Press. Used with permission.

Nathaniel Hawthorne

The Celestial Railway (excerpt), reader Jonathan Pryce

T. S. Eliot

Shimbleshanks – The Railway Cat (excerpt), reader T. S. Eliot

Charles Dickens

Mugby Junction (excerpt), reader Eleanor Bron

Philip Larkin

The Whitsun Weddings (excerpt), reader Jonathan Pryce

Wilfred Owen

The Send Off, reader Eleanor Bron

Thomas Hardy

On the Departure Platform, reader Jonathan Pryce

Leo Tolstoy

Anna Karenin, (Trans. Rosemary Edmunds) reader Eleanor Bron

Primo Levi, trans. Ruth Feldman and Brian Swann

Ad Ora Incerta - "Lunedi" (Ad Ora Incerta - "Monday"), reader Jonathan Pryce

Katrina Porteous

If My Train Will Come, reader Eleanor Bron