Main content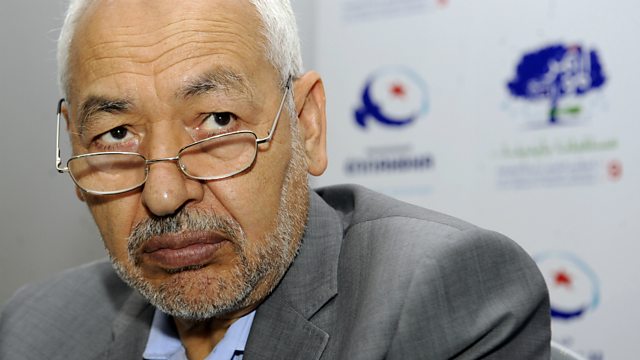 Sheikh Rachid Ghannouchi
Sheikh Rachid Ghannouchi, an influential Islamist thinker, has returned from London to Tunis and won elections. Owen Bennett-Jones investigates his mix of Islam and democracy.
Should the world fear the rise of political Islam in the newly democratic Middle East? The Arab Spring has thrust the ideas and ideology of one man into the centre of this crucial question. Before the revolutions began, Sheikh Rachid Gannouchi lived in Hemel Hempstead and was one of the world's leading Islamist ideologues, urging the Muslim Brotherhood to accommodate modate the ideas of secularism, democracy and acceptance of equal political rights for non-Muslims. But after the region begun to rise up against dictators, he has become even more powerful and his ideas have been tested as never before. He returned to his native Tunisia in 2011 and is now spiritual leader of Tunisia's largest political party, but his influence extends far beyond North Africa. As the Muslim Brotherhood and its ideological brethren try and find a place in a democratic world, his controversial ideas have won acolytes in the Arab World, Turkey and South East Asia.
For Analysis, the BBC Radio 4 series that probes the ideas that shape the world, Owen Bennett-Jones travels to Tunis to meet this controversial thinker and examines his ideas and influence.
The documentary features a full length interview with Sheikh Rachid Gannouchi.
In addition, Owen interviews Dr Maha Azzam, of Chatham House in London; Anas Altikriti, Islamist intellectual and son of the former leader of the Iraqi Muslim Brotherhood; Wan Saiful Wan Jan, a member of the Islamic Party of Malaysia; Abdel Kader Heshimi, leader of a group of Salafi Muslim students in Tunis, and a group of feminist law students in Tunis.
Producer: Mukul Devichand.
Amongst Libya's new ruling class there is broad support for one ideology: capitalism

Edward Stourton asks if the Egyptian revolution spells the end of old-style Islamism.
Featured in...
A selection of the best Analysis programmes exploring political Islam around the world.