Main content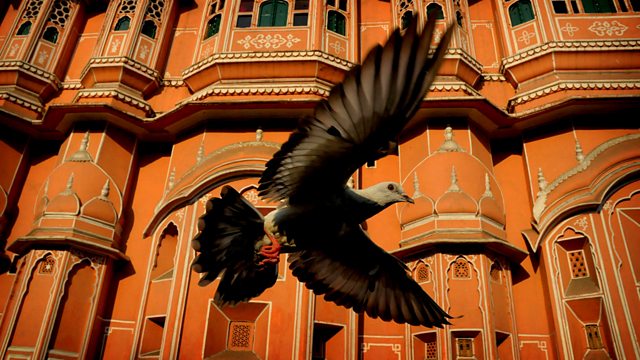 The nature series gives a bird's-eye view of Asia and Australia on a journey that includes a dangerous Himalayan pass, the Great Wall of China and Ayers Rock.
In this bird's-eye view of two continents, demoiselle cranes negotiate a dangerous Himalayan pass on their way to India while high-flying bar-headed geese take the fast track five miles above.
In Rajasthan, vultures watch hunting tigers hoping for a meal and pigeons visit a temple dedicated solely to sacred rats. Pigeons are also our guide to the greatest gatherings of camels on Earth and learn to dodge buzzards around the battlements of Jodhpur Fort. 9,000 cranes overwinter in the most unlikely of spots - a barbed wire compound in the centre of a desert town.
In Australia, rainbow lorikeets drop in on Sydney and patrol Australia's Gold Coast. In the outback, white cockatoos swirl in thousands and budgerigars pass Uluru (Ayers Rock) and gather in the biggest flocks ever recorded.
In China, swallows and swifts visit the Great Wall and the Forbidden City of Beijing. In Japan, the country's most revered birds - Japanese cranes are fed fish by appreciative locals and are joined in strange, momentary harmony by hungry red foxes, white-tailed eagles and Steller's eagles. As peace descends, Japanese cranes dance beautifully in the snow.
Clips

Credits
| Role | Contributor |
| --- | --- |
| Narrator | David Tennant |
| Series Producer | John Downer |
| Producer | Robert Pilley |