Main content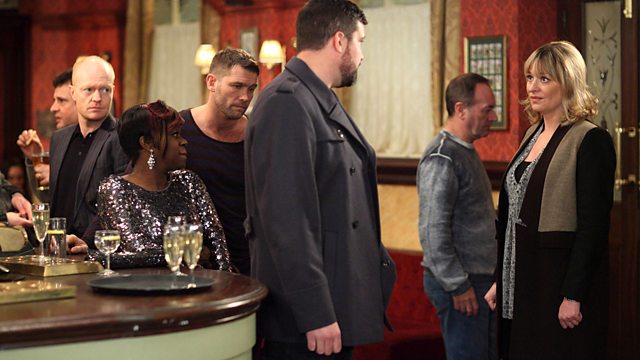 27/01/2012
Shirley finally manages to get Phil to see her, but she is shocked when she realises he is aware of everything she has been trying to protect him from.
Ian hosts a lunch for Jane. Tanya doesn't turn up and later avoids Jane in Booty. Jane feels guilty when Ian tries to persuade her Bobby, Ben and Lucy need her in Walford. Christian throws Jane a surprise leaving party; Bobby's made a cake and Gethin's there. When Denise proposes a toast, Jane runs out of the Vic, she can't leave. The party re-starts after Christian talks Jane round. DJ Fatboy plays a 'Janya' party mix of Tanya's. Masood and Jane say goodbye. Lauren finds Tanya at home, miserable, and tells her to stop pushing everyone away. When Mandy's late arriving to the party, Lucy asks if it's related to her sneaky phone call earlier. Denise and Zainab give Jane a novel, she hugs them both. Outside, Jane shares tearful goodbyes with Lucy and Ian. She gets into the car then jumps out again as Tanya runs out of her house. The friends embrace and apologise. As Christian and Jane drive away, Jane looks to the future, from now on she can be anyone she wants.
Max sacks Fatboy so he can employ Lauren at the car lot. Whitney's touched when Tyler gives Fatboy work at the Emporium. Fatboy announces to the Vic he loves Whitney, Whitney notices Tyler watching her.
Shirley reveals to Ian Ben's the chief witness in Phil's prosecution case. Ben won't talk to Ian. Phil allows Shirley to visit. She claims Ben's being good, but Phil knows she's lying. Phil tells Shirley to prove herself by getting Ben onside. Shirley tells Ben she cares and will be there for him, whether he likes it or not.
Kim dresses to impress then flirts outrageously with Gethin to provoke a reaction from Ray.
Syed's unhappy that Christian's going away to work in Gran Canaria, but they need the money.
Music Played
Timings (where shown) are from the start of the programme in hours and minutes
Credits
| Role | Contributor |
| --- | --- |
| Jane Beale | Laurie Brett |
| Christian Clarke | John Partridge |
| Tanya Jessop | Jo Joyner |
| Ian Beale | Adam Woodyatt |
| Lucy Beale | Hetti Bywater |
| Mandy Salter | Nicola Stapleton |
| Ben Mitchell | Joshua Pascoe |
| Shirley Carter | Linda Henry |
| Phil Mitchell | Steve McFadden |
| Max Branning | Jake Wood |
| Lauren Branning | Jacqueline Jossa |
| Whitney Dean | Shona McGarty |
| Arthur 'Fat Boy' Chubb | Ricky Norwood |
| Tyler Moon | Tony Discipline |
| Heather Trott | Cheryl Fergison |
| Kim Fox | Tameka Empson |
| Denise Fox | Diane Parish |
| Ray Dixon | Chucky Venn |
| Syed Masood | Marc Elliott |
| Zainab Khan | Nina Wadia |
| Masood Ahmed | Nitin Ganatra |
| Gethin | Bradley Freegard |
| Bobby Beale | Alex Francis |
| Executive Producer | Bryan Kirkwood |
| Director | Nicky Higgens |
| Writer | Wendy Granditer |