Main content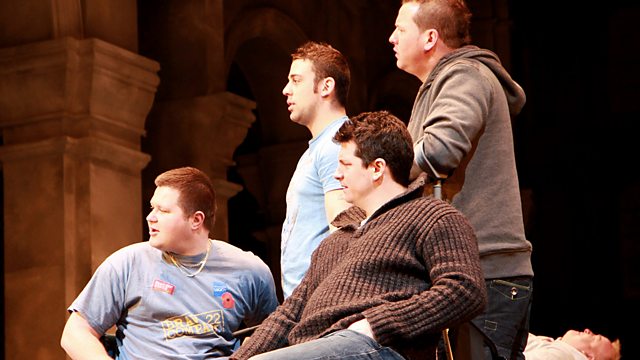 Norma Percy on Putin; soldiers' stories on stage
John Wilson meets soldiers starring in a play based on their combat experiences; documentary maker Norma Percy on filming Putin and the oligarchs.
With John Wilson
Soldiers injured in Afghanistan and Iraq are starring in The Two Worlds of Charlie F, a play in London's West End written by the poet Owen Sheers and inspired by the soldiers' own stories. John Wilson talks to Rifleman Daniel Shaw, a soldier in the Infantry who lost both legs in Afghanistan, Sapper Lyndon Chatting-Walters, a combat engineer who suffered serious spinal injury in Afghanistan and to Owen Sheers.
Blues Singer and Radio 2 presenter Paul Jones pays tribute to the singer Etta James whose powerful and evocative voice has inspired audiences and singers alike, most recently Adele and Amy Winehouse cited her as an influence.
Award-winning TV documentary maker Norma Percy discusses her latest project - Putin, Russia and the West - which began last night. Vladimir Putin, current Prime Minister of Russia, is the focus of the four-part series, which includes interviews with members of Putin's inner circle as well as leading figures from the West, including Condoleeza Rice, Colin Powell, and Tony Blair's former Chief of Staff, Jonathan Powell.
Placido Domingo and Joyce DiDonato are starring at the Metropolitan Opera House in New York in The Enchanted Island - an opera inspired by Shakespeare's The Tempest and featuring the lovers from A Midsummer Night's Dream. The British composer and director Jeremy Sams has created the piece using original Baroque arias by Handel, Vivaldi and Rameau. David D'arcy reviews.
Producer Erin Riley.
Last on
Chapters
The Two Worlds of Charlie F

John Wilson interviews to two members of the cast, Rifleman Daniel Shaw and Sapper Lyndon Chatting-Walters, as well as the writer, Owen Sheers.

Duration: 09:44

Etta James

Paul Jones pays tribute to the singer Etta James

Duration: 05:06

The Enchanted Island

David D'arcy reviews Metropolitan Opera House in New York's The Enchanted Island

Duration: 04:54

Norma Percy

Norma Percy discusses her latest project Putin, Russia and the West.

Duration: 08:10

Broadcast