Main content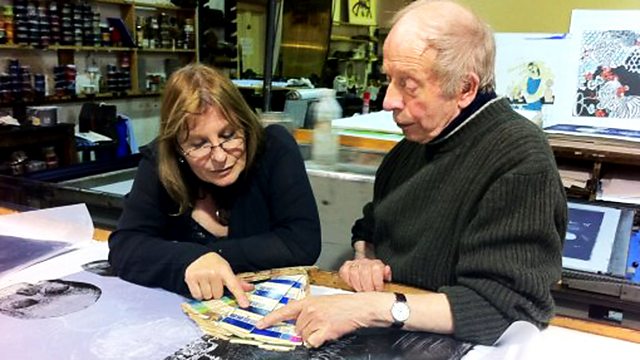 The Print Master
With a roll-call of top British artist clients, legendary print maker Stanley Jones is profiled by Susan Aldworth. From 2012.
What do Henry Moore, Barbara Hepworth, Elisabeth Frink, Paula Rego, David Hockney and Man Ray have in common?
They have all worked with legendary print maker, Stanley Jones.
Susan Aldworth takes the chance to be his apprentice, to hear his tales, and learn his skills.
In the 1950s the printmaking skill-base in the UK had almost completely disappeared until WS Hayter - founder of the legendary Atelier 17 studio in Paris - persuaded a talented young artist from Wigan to study the art of lithography, a skill which had been lost in the UK since the time of Whistler.
On his return to Britain, Stanley Jones spearheaded a rapid expansion in British Printmaking. Today he is revered in artistic circles as one of the greatest print makers alive. His clients read like a roll-call of the 20th century's great British artists.
Susan was invited to be Artist in Residence at the Curwen Studio, which Stanley was involved in setting up in the 1950s. The Tate Gallery has a special archive devoted to the studio's work.
We join them amongst the thundering and clanking machinery of the print works, now near Cambridge, as Stanley initiates Susan in the art of lithography, hearing tales of artists he has worked with over the past 50 years. And what artists!
Lithography is under threat as increasing numbers of Art Schools have disposed of their lithography presses and there are few technicians who fully understand the process.
This is a unique chance to work with the world expert in this discipline, and for us to discover more about this art.
Producer: Sara Jane Hall
First broadcast on BBC Radio 4 in January 2012.
Last on
Broadcasts