Main content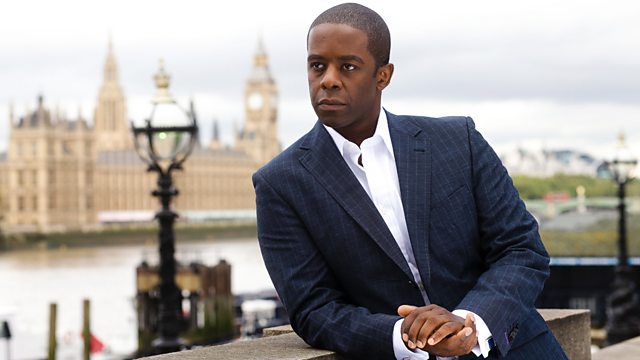 Drama series about a group of con artists. The grifters pose as a renegade army unit to take on Dexter Gold, the greedy, smooth-talking owner of a corrupt gold exchange.
The Hustle team is back, and making more money than ever now that the Olympics are in town, but a moment of random kindness from Albert draws them into an altogether darker con. The mark is Dexter Gold, a fast-talking, smooth-dressing wide boy who runs a cash for gold exchange designed to part the old and vulnerable from their precious treasures in return for a pittance. That is only half the story, though, and Dexter's cheeky chappie persona is really a front for his role as a middle-man for stolen gold bullion. He is a great mark, but Mickey has a warning; Dexter is ruthless, and they must be certain to come out of the con with no reprisals.
Meanwhile, Eddie finally has enough of the gang's childish behaviour when he finds that someone has defaced his precious photo of Liverpool legend Ian Rush. Failing to see the funny side, and certain that the culprit is West Ham supporter Ash, Eddie bans the team from the bar until he owns up. But for once Ash is innocent and, though the absence of Eddie's breakfasts is taking its toll, there is no way he will own up to something he did not do. It is stalemate.
In order to part Dexter from his money, Ash and Mickey plan to pose as members of a renegade army unit and convince Dexter that they have a large stash of Colonel Gadaffi's stolen gold for sale. With balaclavas and firearms at the ready, Ash puts on an impressive display to hook Dexter. But when Dexter suddenly introduces his buyer into the equation, the team look wrong-footed; can they convince Dexter and his buyer their gold is the real deal and, crucially, finish the con with Dexter unaware of their involvement? And perhaps most pressing of all - will Eddie ever let them back into his bar?
More episodes
Previous
You are at the first episode
Clips

Credits
| Role | Contributor |
| --- | --- |
| Mickey Stone | Adrian Lester |
| Albert Stroller | Robert Vaughn |
| Ash Morgan | Robert Glenister |
| Sean Kennedy | Matt Di Angelo |
| Emma Kennedy | Kelly Adams |
| Eddie | Rob Jarvis |
| Dexter Gold | Paterson Joseph |
| Heinz | Pip Torrens |
| Barry | Harry Hepple |
| Tamara Hexton-Pilkington | Hermione Gulliford |
| Phoebe Hexton-Pilkington | Isabella Parriss |
| Arnie | Cliff Parisi |
| Vivienne Marchant | Marlene Sidaway |
| Writer | Tony Jordan |
| Producer | Jane Hudson |
| Director | Alrick Riley |
| Shania | Ella Ainsworth |
| Security Guard | Andy Dowbiggin |
| Farmer | Paula Wharton |