Main content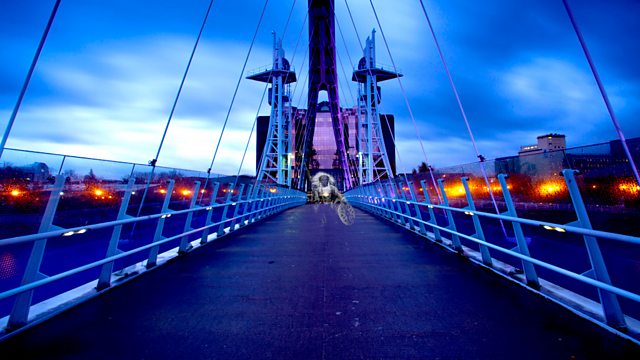 The Lost Salford Sioux
Anjum Malik's new mystery play, inspired by the true story of Surrounded by the Enemy, a Native American who came to Salford as part of a travelling circus.
Coming home is not always easy. A 19th century mystery set in Modern Salford. A new play about forgotten people and long-lost secrets from dramatist Anjum Malik.
The drama was inspired by workshops and conversations with the many different communities in modern Salford, as well as academics. Anjum was fascinated by the extraordinary story of Surrounded by the Enemy, a real-life Native American whose body is believed to be still buried under Salford streets. This new play explores how we relate to death and the impact of change on communities.
Alison's PhD in death ritual around the world is not going well. Despite misgivings and her poor relationship with her Nan, she returns home to Salford, hoping that a job with a local funeral firm will help her unlock the secrets around her mother's death and complete her doctorate. She is alarmed when a strange man starts to follow her, begging her to help him, then disappearing as quickly as he appeared. She struggles with her new job, her Nan and finally collapses under the pressure of it all. Only then does she find out the truth, that the man who dogged her footsteps is in fact the spirit of a 19th century Native American, who came to Salford with Buffalo Bill's Wild West circus and died there, his body mysteriously disappearing for ever. She must help him get his bones back to his homeland in order to release his sprit and in so doing, help her get her own life on track.
Cast and crew:
Surrounded by the Enemy ..... Anthony Forrest;
Alison ..... Lorraine Cheshire;
Violet ..... Sue Jenkins;
Charlie ..... Darren Kuppan;
Stanley Claxton ..... Roger Morlidge;
Dramatist ..... Anjum Malik;
Producer/director, Polly Thomas;
Sound design, Eloise Whitmore;
Executive producer, Robert Abel;
A Somethin Else production for BBC Radio 3.
Singers from Gemini and Salford Community Choirs.
Musical director, Paul Trimble, assistant head of Salford Music and Performing Arts Service.
Piano accompanist, Kathleen Hesford.
With thanks to:
Kate Chatfield, Exhibitions Manager, People's History Museum;
Dr Julie-Marie Strange, Senior Lecturer in History, School of Art, Manchester University;
Stephen Terence Welsh, Curator of Living Cultures, Manchester Museum;
Tony Molyneaux and Andy Waters, funeral directors, Co Op Funeral Care;
Councillor Steve Coen;
Dr Karen Jones, Senior Lecturer in American History, University Of Kent;
Dr Julie Anderson, Senior Lecturer in History of Modern Science, University Of Kent;
Gemini Group.
Anjum Malik is a scriptwriter, poet and Honorary Writing Fellow at Manchester Metropolitan University. She has written several radio plays plus two series of her original Woman's Hour drama serial (The Interpreter) for BBC Radio Drama. Her community-based drama for Unity FM, Breaking the Silence, is now in its third year of production. Her first film Escape To Somerset was commissioned and transmitted by HTV, since then she has been commissioned to develop and write films for BBC Films. Her poetry has been published by Huddersfield University, Redbeck Press, Crocus Press and Suitcase Press. She has done numerous writers' residencies including Poet in Residence at the Lowry for the Commonwealth Games, the Cheltenham Literature Festival, and Strangeways Prison, Manchester. Stage credits include two stage monologues for the People's History Museum in Manchester and a residency with the Birmingham Rep.
With thanks to everyone who helped with this project, especially: Ian Hepplewhite, Cllr Steve Coen, Julie Marie Strange, Manchester Museum, Manchester Police Service, Co-op Funeralcare, Salford; Rabbi Brodie; Mark Cunningham at FJS; Interlink; Gemini Group; Revive; Rapar; Waqas Anees, Eccles Neighbourhood Development Officer; Broughton Trust; Ordsall Arts; East Salford Neighbourhood Development; Swinton Youth Arts; Canon David Wyatt; Imam Ali at Eccles Mosque.