Main content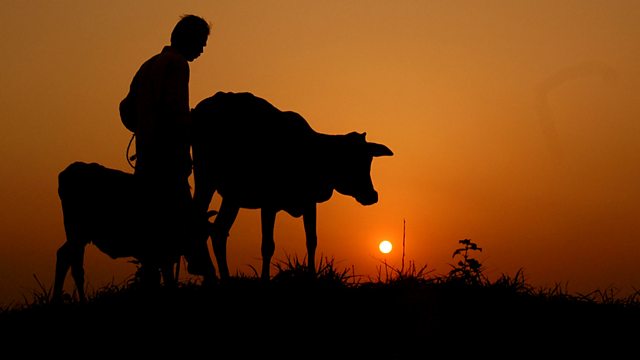 Cowdust Time
A sound portrait of Indian twilight, known as 'cowdust time', when cows come home from the fields, women cook, children play and birds return to their nests.
An evocative sound portrait of Indian "cowdust time".
Dust rises from the hooves of cattle returning to a village at sunset. Smoke from open fires wreathes in ribbons across the fields. As the evening shadows begin to lengthen, people, animals and birds all return to their homes to rest.
This time of day is known in India as "godhuli bela", or "cowdust time". It is the sacred time when Lord Krishna brought his own cattle safely home. In paintings, he is often seen meeting his beloved Radha in the evening, as peacocks call, bright green parakeets chatter loudly in the neem trees, temple bells and muezzins call people of different faiths to prayer.
There are many devotional songs and poems devoted to this twilight hour. It is seen throughout India as an auspicious time for engagements, weddings, even business ventures. But it's also the time when mothers call their children home, to avoid evil spirits. And when those same children are told not to whistle, for fear of inviting evil in.
In this hypnotic sound tapestry - recorded in Gujarat, the Kumaon hills and Madhya Pradesh - we hear cows and other animals being brought back to their village, the loud clamour of birds, the eerie noise of crickets.
"It is that fantastic time of day," says writer and academic Rajendrasingh Jadeja, "when the cowdust raised transforms the scene from stark, sharp light to a fantasy world."
That fantasy world has been captured in art, music and literature. Painter and art critic Amit Ambalal, poets Jayant Parmar and Mahek Tankarvi, and musician Sugna Shah, are among those who talk about the religious and cultural significance of twilight. We also hear the poetry, prayers, lullabies and ragas depicting this magical time "when the earth does yoga".